4 Reasons to Attend This Year's Travel Market Place West Conference
by Daniel McCarthy /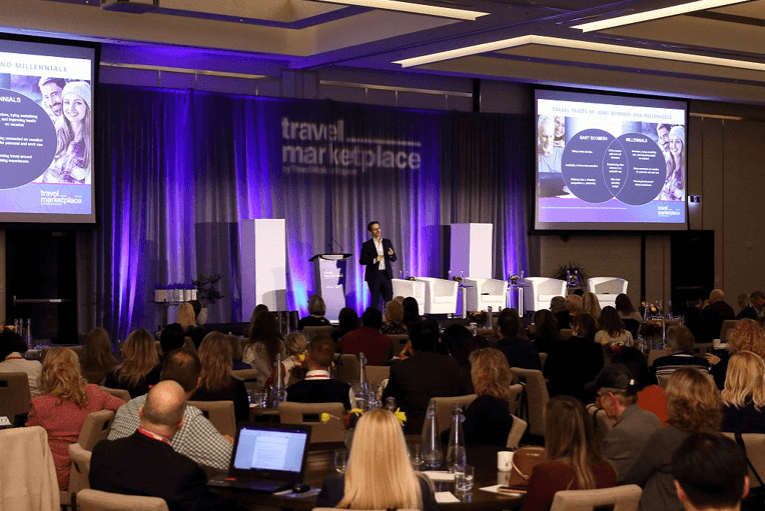 We're just about two weeks out from the start of 2022's Travel Market Place West Conference.
The conference is built and designed specifically to help travel advisors thrive and connect with suppliers in person, as well as learn from industry-leading experts who will cover a wide array of business-building topics from around the industry.
The conference, which is held May 2-3 at the JW Marriott Parq Vancouver, is one of the highlights of TMR's year and we are excited to see you there. Here is just a taste of what you can expect:
1. The Welcomed Return to Conferencing
This year's TMP West marks the event's return to Canada's west coast for the first time since 2020. Nicknamed "CO-Vision 2020," the 2020 conference took place in February 2020, just before the world closed down.
While that year was filled with discussions about surviving what was to come, this year's conference is expected to strike a different tone, mainly one of preparing for the industry's bounce-back, which is already well underway.
For instance, Air Canada, which had daily passenger loads as low as 2,175 in April 2020, carried 100,0701 on April 1, a major milestone not just for the carrier, but also for the Canadian and international travel industry in general.
It is that kind of sentiment and optimism that is expected to drive this year's conference, one that will not only leave attendees feeling positive about their future but also prepare for the oncoming return of travel demand.
2. The Program
This year's conference will be emceed by Ron Cates, a digital marketing icon who is known as "the Grandfather of email marketing." Cates will lead a program filled with educational sessions specifically geared to helping travel advisors build their business in 2022 including:
- A leadership panel featuring Nexion's Mike Foster, TRAVELSAVERS' Cathie Lewis Hardy, Independent by Flight Centre's Christal Bauer, and more, focusing on how agency owners can lead their staff through the volatility over the next few months.
- Tim Law, partner with Heifetz, Crozier, Law, will provide an understanding of the duty of care and how to incorporate discharging the duty into the sales process, including the creation and effective use of terms and conditions.
- A cruise panel featuring Derek Lloyd from NCL, Justin French from Carnival Cruise Line, Beverly Vickers from Regent Seven Seas Cruises, and Carla Brake from Globus.
- A TED-style talk by Travefy's David Chait on How to Future-Proof Your Business.
- A talk on How to 10x Your Business with Geraldine Ree.