ASTA Reveals Overhauled Website, Installs New Credo at Global Convention
by Daniel McCarthy /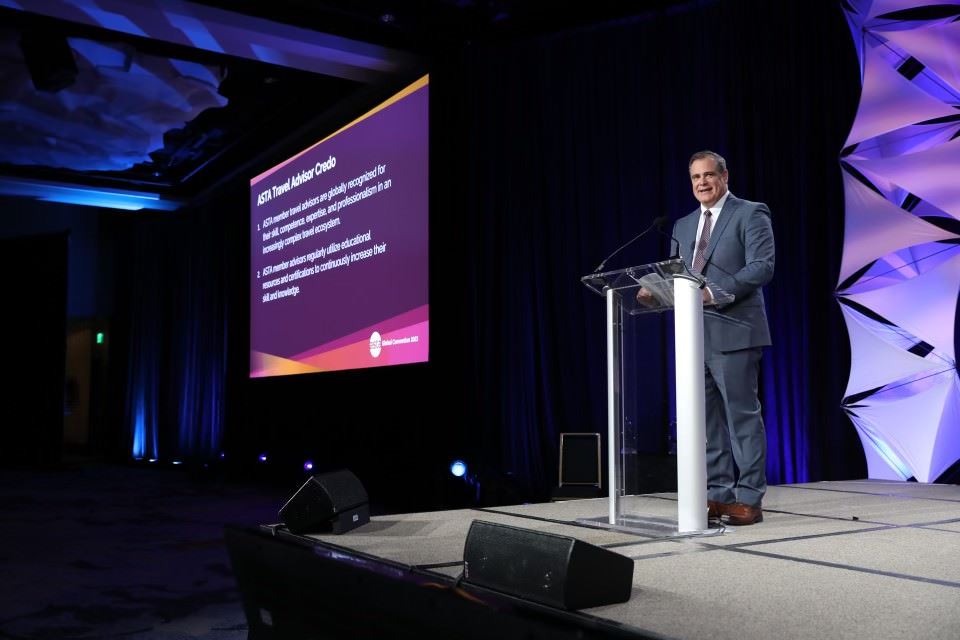 Just as the travel industry continues to undergo rapid changes coming out of two-plus years of the COVID-19 pandemic, one of its most important trade associations does as well.
The American Society of Travel Advisors (ASTA) this week unveiled plans for two major changes—one, a rebranding and a complete overhaul of its website; and two, a new ASTA credo that will help more clearly define the role of its members.
"This is a major step forward," ASTA CEO and president Zane Kerby told media this week during a press conference at ASTA's Global Convention in San Francisco.
About 18 months ago, Kerby said, the board of directors at ASTA decided to "pour significant resources" into ASTA's rebranding, which included the website overhaul.
The new website, which will be unveiled to all members and the general public on Sept. 1, will give ASTA's online presence a refreshed look and more capability (more mobile friendly) for three different audiences—ASTA members, consumers, and potential future travel advisors who have not yet entered the industry.
More important, Kerby added, it takes over from the current website that is "not befitting an industry whose job it is to make travel dream come true."
All members and non-members will be able to see the website starting on Sept. 1.
The other big piece of news is the new ASTA Travel Advisor credo, a new mission statement that clearly defines what ASTA members do that will exist in addition to ASTA's mission. The credo reads:
ASTA member travel advisors are globally recognized for their skill, competence, expertise, and professionalism in an increasingly complex ecosystem.
ASTA member advisors regularly utilize educational resources and certifications to continuously increase their skill and knowledge.
All ASTA members abide by the ASTA Code of Ethics, which protects the integrity of the travel industry as a whole, giving consumers confidence that they're working with a true professional.
ASTA travel advisors often charge clients professional fees, to reflect the value of the unique service they provide to their clients. We support this as a best practice.
The tenant that might be controversial to some members is the fee tenant. Kerby explained that ASTA has long promoted the use of professional fees and has run training and informational sessions on how advisors can implement them in their business. But it won't be mandatory for members, despite its place in the credo. The goal, rather, is to normalize the practice for both advisors charging them and consumers paying them.
"This is by no means a compulsory thing," Kerby said. "This is something that we endorse. Now it is really important for us to further normalize the practice of charging professional fees."
ASTA has done surveys and, over time, the percentage of its members who charge fees has steadily climbed, including during the pandemic as more and more advisors searched for cash flow with commissions either on hold or missing. That percentage has grown so much that a majority of its members now charge fees, according to Kerby.
"The level of consultation and the level of care needed to watch over someone who is traveling has increased tenfold," he said. "We have to get over the hump and it should help normalize the charging of fees."