First Look: Visit Portugal's New 'Close to US' Marketing Campaign
by Daniel McCarthy /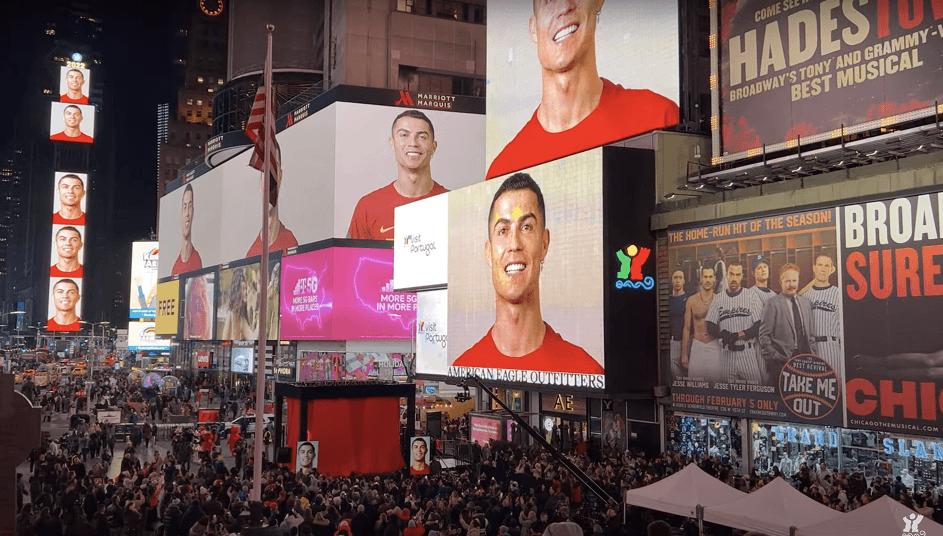 On Friday, Visit Portugal unveiled its new North American marketing campaign in New York City, showcasing its "Close to US" brand activation in digital billboards in Times Square.
The campaign, Visit Portugal said, is meant to showcase the diversity of tourism offered in Portugal, a country that is about 88% of the size of Kentucky, but one that is still incredibly diverse, with "nature to history, from waves to heritage, from citizen to villages," and more.
Visit Portugal said that it expects the campaign to reach 500 million people worldwide, including during this holiday week, which is one of the most popular times for North Americans to book future travel.
To coincide with the campaign, and with the kick-off of the 2022 FIFA World Cup, Cristiano Ronaldo's wax figure will be at Madame Tussauds wax museum from November 21, 2022, in a space dedicated to the Portuguese athlete called: The CR7 Experience. The public visiting the Madame Tussauds Museum will also see films about Portugal.
"Cristiano Ronaldo is one of the most accomplished football icons of our time and we were thrilled to be team up with Visit Portugal for this special Time Square reveal; it's an incredible opportunity to shine a light on the beautiful country and holiday destination of Portugal," said Madame Tussauds New York Head of Marketing Tiago Mogadouro.
The U.S. had long been a strong inbound market for Portugal. According to Visit Portugal, the U.S. market share in Portugal is growing at a clip of 18.8% for guests, 19.5% for overnight stays, and 45% for tourist revenues, for 2022 compared to 2019. The country hopes the new campaign helps those trends continue in 2022 and 2023.
Visit Portugal also said that it expects to continue to grow its presence in the U.S. travel market, with a focus on trade shows, road shows, workshops, and more.