Avanti Releases New Rail Brochure, Educates Advisors About Train Travel
by Kerry Tice /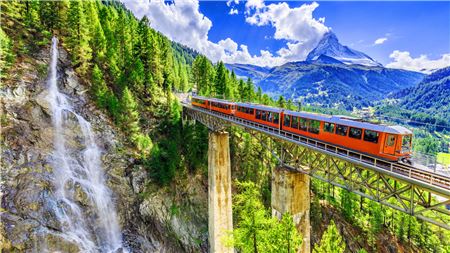 The popularity of train travel in Europe has prompted FIT operator, Avanti Destinations, to team up with rail suppliers to launch a joint informational campaign targeting travel advisors and highlighting the advantages of traveling by rail.
The move, anchored by a new, 51-page ebrochure entitled "The Best Way to Explore Europe," is intended to educate travel advisors about the benefits of choosing rail over air travel for multi-destination European journeys.
The brochure explains the differences between rail passes and point-to-point tickets, different classes of service, and how to qualify a client for either a high-speed train traveling at almost 200 mph or a more leisurely scenic train ride that glides through mountains and gorges. It also provides useful information on the latest developments in each rail system, onboard amenities, and wheelchair assistance on various trains.
"Rail is the 'secret sauce' that makes it easy to connect the dots of multiple destinations in Europe," said Paul Barry, Avanti's executive chairman. "Rail is used in more than 80 percent of the customized FIT itineraries that Avanti crafts for travel agents' clients going to Europe. And it is ideal for custom group travel, whether the group is small or large."
Barry noted some of the advantages of traveling by Europe's trains, including the convenience of traveling from city center to city center, saving the client time and money in transportation from airports that can be 30 minutes or more away from their intended destination; more legroom for passengers and more space for luggage, including free baggage allowance; free WiFi; as well as a café car for a drink or a bite.
Booking incentive for advisors
The new brochure features 26 customizable, multi-destination Avanti itineraries linked by rail throughout Europe, including 12 that are new for 2019.
For example, "Connect the Capitals: London & Amsterdam" is an itinerary that highlights a new route, which Travel Market Report announced this past spring. The 7-day/6-night itinerary includes: three hotel nights in each city, first-class rail, private arrival/departure transfers, an "Historic Pubs of London Docklands" small group tour, a local walking tour of Amsterdam, a pub visit and dinner, and daily breakfast. Rates start at $1,995 per person, double occupancy.
To encourage agents to book their clients, the operator is offering a $50 bonus commission for each booking of $1,500 or more made before Feb. 28, 2019, for travel taking place by Mar. 31, 2019.
Avanti is partnering with the following rail companies in their campaign: Rail Europe, the Swiss Travel System, France's high-speed TGV, the high-speed Eurostar train (linking England with the continent), Thalys (linking Paris-Brussels-Amsterdam), Italy's Trenitalia, TGV Lyria service (linking France and Switzerland), the France-Spain High-Speed train, and Germany's InterCity Express (ICE).
Additional itineraries featured for 2019 include the "Oberammergau Passion Play 2020," "Wonders of France & Switzerland," and "Road to Iberia," to name a few.