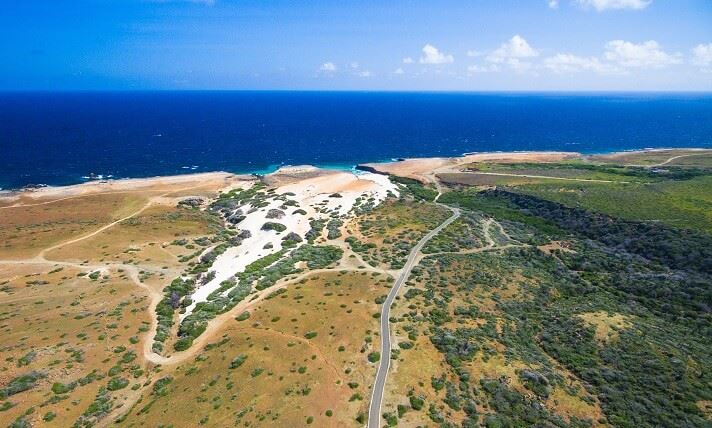 Caribbean destinations are preparing to welcome back visitors after being closed to travel for nearly two months in an effort to prevent the spread of the coronavirus.
The Government of Aruba announced a tentative reopening of the borders for inbound travel scheduled between June 15 and July 1, 2020. A formal announcement will be made in the coming weeks with the official reopen date.
In the meantime, officials have unveiled a certification system that will be mandatory for all tourism-related businesses across the country.
The "Aruba Health & Happiness Code" certification seal of approval, developed by the Aruba Tourism Authority and the Department of Public Health, will be displayed prominently on all tourism businesses, including lodging, food and beverage, restaurants and bars, casinos, retail shops, and tour operators, as well as the Department of Public Health website.
The Aruba Airport Authority will implement measures such as screening, temperature checks, on-site medical professionals, social distance markers and additional shields and safeguards, and mandatory PPE training for all staff.
At the island's hotels, visitors can expect to see plexiglass barriers at desks, digital keys and contactless check-in, and thorough disinfecting of all public spaces and rooms.
These new protocols will also extend to national parks and tourism attractions. Aruba's Arikok National Park will adhere to the certification guidelines and is creating digital experiences to help reinforce social distancing including virtual guided tours of the park. For the first time ever, the park will permanently ban ATVs starting on June 1 and UTVs beginning Oct. 31 from protected areas.
The Bahamas is targeting a July 1 reopening for travel.
"These dates may change depending on the circumstances. I want to repeat, however, that this date is not final. It will be adjusted if we see a deterioration of the COVID-19 infection trends or if we've determined that the protocols and procedures are not in place sufficiently to warrant this opening," Prime Minister Dr. Hubert Minnis told The Tribune.
The Bahamas is currently entering Phase 2 of its reopening strategy, with the fifth and final stage allowing the island chain to resume international travel and tourism operations. Resorts, airports, and seaports are finalizing the health and safety protocols that will be necessary for the re-opening.
Saint Lucia has already laid out a phased-reopening plan beginning on June 4. Nearly 1,500 hotel rooms that meet more than a dozen criteria for sanitization, social distancing, and other COVID-19 protocols will be available. International flights will be permitted at Hewanorra International Airport (UVF) from the United States only during this phase.
Jamaica's Tourism Minister Edmund Bartlett also envisions a phased and gradual reopening to the country's tourism product.
The five-point recovery plan for the tourism sector includes developing robust health and safety protocols, increased training for all segments of the tourism sector, building safety and security infrastructure, and acquiring PPE and hygiene tools.
Barbados has just entered Phase 3 of the reopening of its economy, including the relaxation of previously implemented measures. All visitors coming to Barbados will still be required to quarantine for a period of 14 days.
Prime Minister of Barbados, the Hon. Mia Amor Mottley, said the government is committed to supporting the country's key revenue-generating tourism industry, though did not release a timetable for when travel will return.
A BDS $200 million Barbados Tourism Facility will be created to provide support to hotels in need of urgent working capital and give them the opportunity to become more profitable through upgrades, expansion and modernization.