Carnival Cruise Line Continues to Boost Travel Advisors with WUATA
by Daniel McCarthy /

"This is for you … to show you just how much you are part of the Carnival Cruise Line family."
That's how Carnival Cruise Line's brand ambassador John Heald kicked off this week's WUATA ("Why Use a Travel Advisor") Party, in Jersey City, New Jersey. The party, the third of four planned WUATA parties in North America, was part of Carnival's yearlong WUATA initiative designed not only to give advisors face-to-face time with the line's sales team, but to help them reinforce their value with consumers.
"We're here to celebrate just how important travel advisors are, not just to cruise vacations, but to all vacations. We are committed to helping your business grow," Carnival's Adolfo Perez, senior vice president of global sales and trade marketing, said to attendees.
"You are the experts. You can do the right thing and make sure that everybody has the right vacations booked."
The events have been a huge success both in person and online — over 400 travel advisors RSVP'd to the Jersey City WUATA party. Attendance and interest at the prior two, one in May in Orlando and one in July in Toronto, forced Carnival to expand plans from the original 200-attendees-per-city that it had expected. And, according to Perez, the parties have generated more than 31 million impressions online since March.

WUATA shirts for sale at Carnival's Jersey City WUATA party.
"There's been a huge demand," Perez said, "We've gotten a lot of great interest."
Carnival has done multi-city events before — its Agentpalooza "rock tour" events in 2017 and 2018 are the most recent example — but the WUATA parties are different because they are designed to bring consumers into the Carnival fold specifically through the trade, propping up both the advisor channel and the cruise line.
"Agentpalooza was all about reaching the advisor," Perez said. "These parties do that, but also bring in the consumer.
Each advisor attendee is asked to attend with a current client and another person who is not yet a client, to hear stories from Carnival guests about just how important advisors are to their vacations. The Jersey City party included a few advisors with clients trending toward Carnival Diamond status in the near future, and one advisor who had a client from Scotland join her at the event. There was also a word cloud generated from consumer's single-word submissions describing why using a travel advisor is the best way to book a cruise.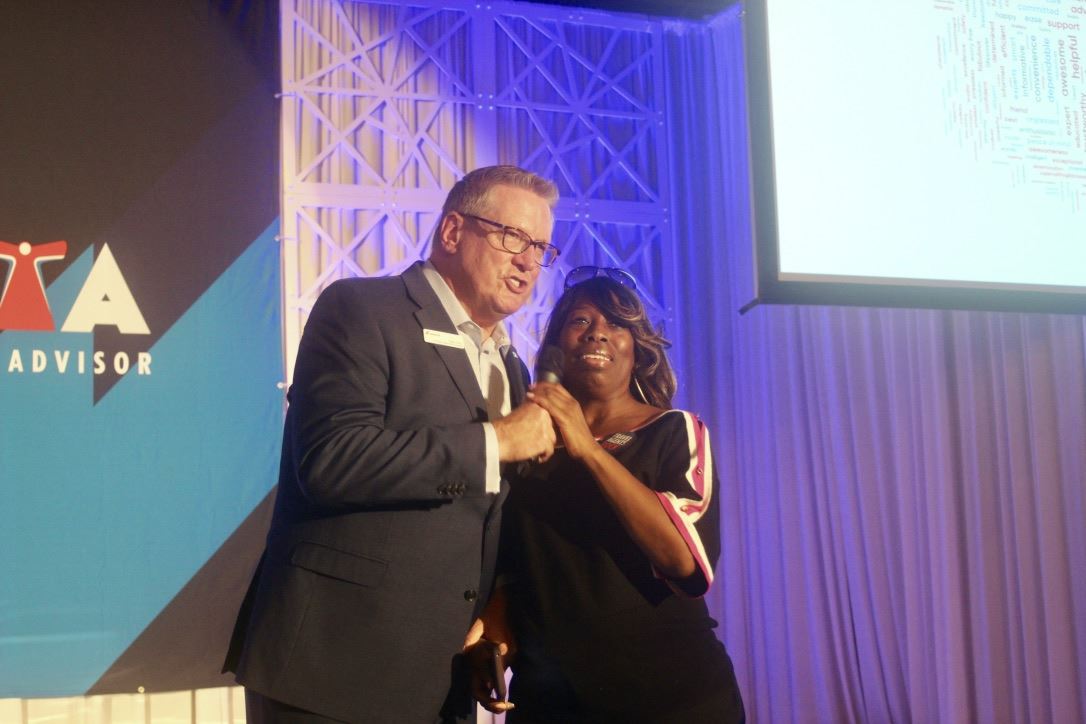 Julius speaking to another consumer at WUATA.
Carnival also invited representatives from both CLIA and ASTA, who shared data with the audience that helped drive the points home. According to CLIA's Stephani McDow, more than 75% of all cruises are booked through advisors, who are the leading distribution channel for the industry; and according to ASTA, 74% of all advisor clients are extremely likely to recommend them to a friend.
The parties also include a cruise giveaway to consumers, with the line giving commission on the cruise to the advisor who brought in the consumer.
Perez, who has served as Carnival vice president of sales and trade marketing since 2015, and was promoted to senior vice president of sales and trade marketing in early 2018 — after getting his start as a check-in agent for Carnival in Miami — has led Carnival's transformational outreach to the trade.
His team has seen trade business become a larger percentage of Carnival's cruise sales over the last couple of years, with a good portion of that growth coming from the IC segment of the industry. That increase has been generated by moves such as WUATA, Agentpalooza, new tools like the redesigned GoCCL Navigator, new policies like commission on bookings made with future cruise credits, and new advisor-programs like the Loyalty Rocks Learn and Earn training.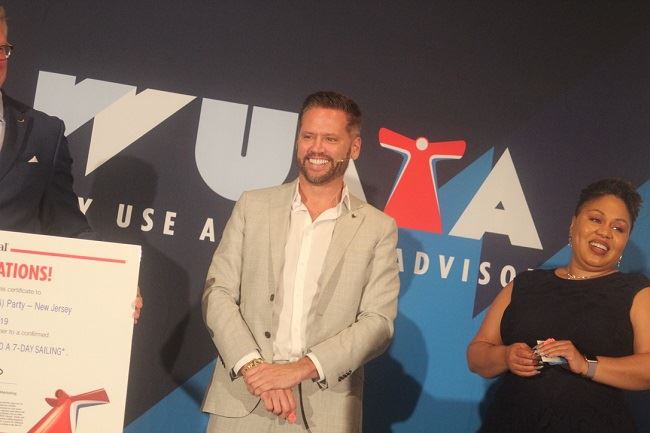 Perez on stage at WUATA in Jersey City.
"Since I've been here, there's been a complete rejuvenation," Heald told Travel Market Report. "People are wanting to book their sailings through a travel advisor. More and more are realizing having a concierge is the best way to do it. Travel advisors are enthused and it's great to see."
"Relationships with advisors have just been crucial to our business," Carnival's Janet Wygert said.
And Mike Julius, vice president of field sales, commented, "We've always had a focus on that, but it's expanded, especially since Adolfo came on."
"He has really instilled a lot of trust," Wygert added.
Perez, for his part, has sacrificed some skin to the trade, literally. The Agentpalooza tour included a 2017 that had Perez sit down to get a "Travel Agents Rock" tattoo on his upper left arm. And for the record, despite the shift in the industry from "agent" to "advisor," he's not planning on making any changes to the tattoo.