Cruise Line Execs Talk Demand Bounce Back & Booking Challenges at TMP West
by Dori Saltzman /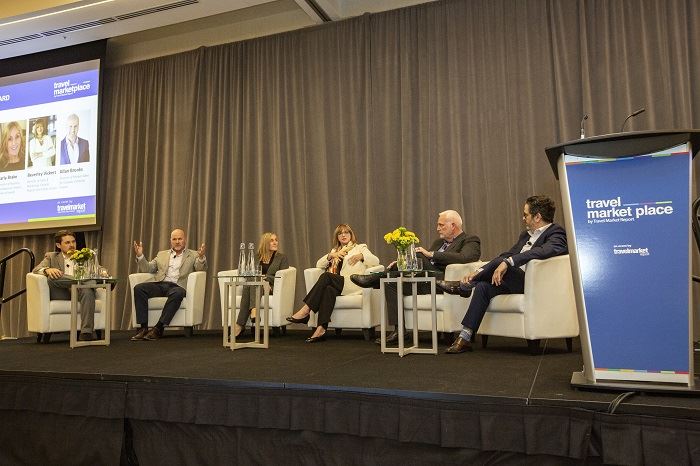 The demand for cruise is on the rise, buoyed in part by first-time cruisers who trust the lines to keep them safe, said a panel of cruise line executives at Travel Market Report's Travel Market Place West conference, held in Vancouver earlier this month.
But despite the growth in demand, the booking window is creating challenges the lines are still trying to figure out, with bookings either far out or super close in.
Cruise Demand Is Back but Booking Window is Split
One thing everyone on the panel agreed with is that the demand for cruising is back.
"The pent-up demand for cruising has never been better," Justin French, regional vice president, Canada/Western US, for Carnival Cruise Line, told attendees.
Alan Brooks, director of market sales for Canada at Celebrity Cruise said Celebrity is also seeing pent-up demand, especially in the form of revenge travel. "That 'I'm doing that trip that I was going to wait 20 years for but now I'm going to do this summer.'"
Beverley Vickers, director of sales and marketing, Canada for Regent Seven Seas Cruises agreed. "The people who were loyal to us before couldn't wait to book," she said.
River cruising is seeing the same demand, said Carla Brake, director of business development, of the Globus family of brands, which includes Avalon Waterways. "River cruising has been growing. Prior to the pandemic, it was really taking off and we've seen great demand. Our sales for 2022 and 2023 are super strong."
But some panelists also agreed that the booking window has been challenging.
"What we're seeing is the demand has somewhat bifurcated," said Derek Lloyd, vice president of sales for Norwegian Cruise Line. "We've got an incredible amount far out, so we're seeing great bookings for 23/24. And then we're seeing a lot of very close-in. The middle for us in where we're having a bit of a challenge."
While Celebrity's Brooks didn't comment on what's challenging, he did say they're seeing lots of close-in bookings, particularly in Alaska.
Vickers, on the other hand, said Regent Seven Seas is finding the short term to be a challenge.
At Avalon, Brake said, it's less about the booking window, though much of their demand is in the two-to-three year window. But for the Avalon, it's certain destinations that are softer than the line would like.
"Our exotics into Asia and the Galapagos, those are a little bit soft right now," she said. Similarly, the situation in Ukraine has "stopped sales on the Danube."
First Time Cruisers Contribute to Demand Trend
One piece of the demand puzzle that had many of the panelists pleasantly surprised was the resurgence of first-time cruisers.
"We're seeing new-to-cruise and people choosing cruising for the first time" French said. "That is something that we're seeing, which we were worried about. Because if someone was sitting on the bench before COVID, we were worried that maybe they wouldn't consider cruising. It's been the exact opposite. We're seeing more first to cruise now than we ever have before."
It's not only the mainstream lines seeing new-to-cruise. Both Regent Seven Seas Cruises and Avalon Waterways said they're seeing first-time cruisers booking.
"There's new people that have decided, that because of what they've seen out there in the world, that perhaps a smaller line might be more comfortable for them," said RSSC's Vickers.
French attributed the growth in new-to-cruise to two things.
First, most of the cruise restart occurred domestically, meaning travelers either needed a short flight or no flight to return to traveling.
Second, the cruise lines were clear from the start about COVID protocols, which provided a level of assurance many potential travelers were looking for.
Lloyd agreed. "One of the reasons why cruises have come back so strong is because we have been very clear about our protocols. You know what to expect and you know what the cruise lines are doing… For anybody who is starting to get back out there, there's a reassurance that we've thought through all of this stuff. And I don't know if you get the same reassurance from some of the land options."
Celebrity used a different tactic to appeal to first-time cruisers, Brooks said. "One of the things that worked well with us when we talked to advisors and in turn their clients was talking about brand associations. Whether it was staying at a JW Marriott or that they drive an Audi, it was helping them understand how our brand aligns with their lifestyle and their interests. It resonated really well with first-to-cruise and helped with conversion."
Unlike the other cruise lines on the panel, Avalon Waterways has a different source for most of its first-time cruisers, thanks to its sister brands Globus, Cosmos and Monograms.
"We do have some people that maybe have done touring with us before and they're looking for new ways to explore," Brake said. But, by and large, Avalon sees more new-to-brand passengers who have come from the ocean cruise lines to river.