Disney Wish Float to Sail During Macy's Thanksgiving Day Parade
by Daniel McCarthy /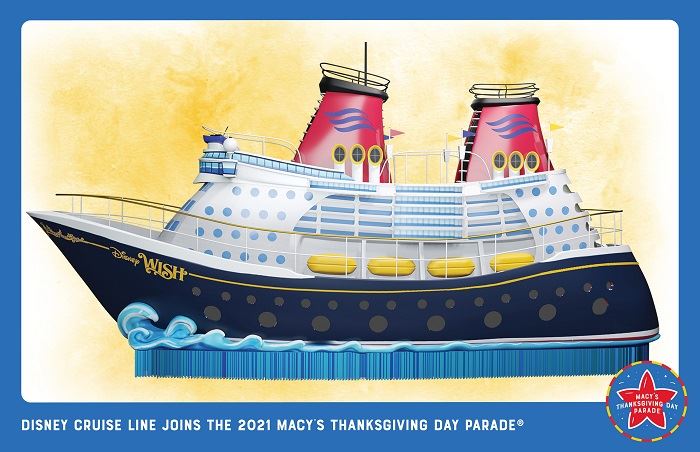 The maiden voyage for Disney Cruise Line's newest ship will actually take place months earlier, and about 1,000 miles north, of its scheduled summer 2022 debut.
Disney on Thursday revealed that a brand-new cruise ship float of Disney Wish will take part in the 95th Macy's Thanksgiving Day Parade this November. The float, which Disney is calling "Magic Meets the Sea," will join the festivities in New York City on Thursday, Nov. 25 starting at 9 a.m. EST.
The float is inspired by Disney Wish, with the same design elements adorning the float's exterior, including the Mickey Mouse-inspired color palette, red funnels, and filigree motif along the hull. The celebration will also feature 15 of Disney's most beloved characters, including Captain Minnie Mouse, Princess Tiana, Aladdin and Jasmine, Cinderella, and more.
"The Macy's Thanksgiving Day Parade is a treasured tradition at the heart of family holiday celebrations," said Sharon Siskie, senior vice president and general manager, Disney Cruise Line.
"We are honored to collaborate with Macy's for this renowned event and build upon the shared legacy of creating magical memories year after year. Just like the Disney Wish, our float will be a celebration of enchanting Disney storytelling, beloved characters, and wishes come true."
The actual Disney Wish is set to debut in summer 2022 it will be Disney's fifth ship in the fleet, following Magic, Wonder, Dream, and Fantasy. It is the first, of three, in a new class of ships for Disney called the Triton class.
The ship will pull more Disney characters and movies into the guest experience than ever before, with a Frozen theme theatrical dining experience, a Marvel cinematic dining adventure, and a first-of-its-kind Star Wars experience onboard.
The theming starts with a Wish Upon A Star motif built around the ship that will bring guests into the world of Disney stories, including storybook-inspired staterooms and the line's signature Walt Disney Theatre, and spreads through the ship, from staterooms to dining rooms.
It will sail with 1,254 staterooms, most of which offer an ocean view, including 877 (70%) with a verandah. The ship will also offer 451 connecting doors that can create a shared accommodation for larger families.