First Look: Royal Caribbean's Redesigned Navigator of the Seas
by Daniel McCarthy /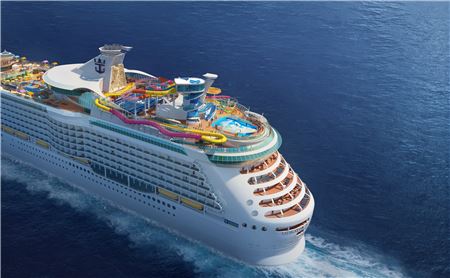 Earlier this year, Royal Caribbean promised that it would deliver the next wave of cruising with a $1 billion investment, which Royal dubbed "Royal Amplified," that would propel the cruise line to new ports, improved ships, and more.
After revealing some of the features of that project this year, including a new AI-powered tool called SoundSeeker, Royal Caribbean is getting ready to undertake a $115 million remake of Navigator of the Seas, one of the largest ships in Royal's fleet and one of the largest ships sailing today.
"Each Royal Caribbean ship brings a new adventure uniquely designed to deliver on our guests' preferences from A to Z," said Michael Bayley, president and CEO, Royal Caribbean International. "Every detail matters, and we've mapped out an unmatched combination of innovative features and experiences for this top-to-bottom transformation of Navigator of the Seas."
Navigator will be remade specifically with short sailings from Miami in mind — the ship will kick off a season of 3- to 4-night Caribbean sailings that include a stop at CocoCay in February 2019.

Navigator of the Seas will now feature Royal's Perfect Storm water coaster. Photo: RCI.
New top deck
Navigator's top deck is getting a major facelift as part of the renovations.
Royal's signature Perfect Storm trio of water slides will be added along with the line's first aqua coaster, The Blaster, which will debut as the longest waterslide at sea. The Blaster will feature a two-person raft that travels along 800 feet of hills, drops, and straightaways.
The ship's facelift also includes Riptide, a headfirst mat racer that takes guests through a translucent tube. Riptide, Perfect Storm, and The Blaster will be installed alongside the vessel's FlowRider and rock-climbing wall.
A remade promenade
Navigator's promenade will be remade with a number of new offerings.
To Dry For, which Royal says is the first standalone blow dry bar at sea, will be installed alongside the Bamboo Room, a Polynesian-themed bar that first debuted on Mariner of the Seas. There's also the Playmakers Sports Bar, Jamie's Italian, Hooked Seafood, and a Starbucks.
Updated pool deck
Navigator will debut with a reimagined, Caribbean themed pool deck that includes a two-level bar, called The Lime and Coconut, that will offer cocktails and live music on a deck bar.
The Lime and the Coconut will compliment two other eateries on the deck: El Loco Fresh and the first Johnny Rockets Express.

Navigator's refreshed pooldeck will include a Caribbean vibe and a two-level bar that will give guests a bird's eye view. Photo: RCI.
Other updates
Royal will update the Adventure Ocean youth program on the Navigator with a new, open, free place space; and the teen club, Living Room, with a new hidden entrance and outdoor deck.
Other additions include Battle for the Planet Z, the glow-in-the-dark laser tag that's hosted in Studio B; mini-golf; and Royal Escape Room: The Observatorium.