United Airlines is getting a facelift with a new, modernized aircraft livery set to be rolled out starting this year.
The first new livery from United since it merged with Continental Airlines in 2012 ditches most of the gold from the old color scheme and instead highlights blue, the color United said is "most connected to its core." It has three shades of blue — Rhapsody Blue, United Blue, and Sky Blue — in the design.
The United logo will appear larger on the side of the aircraft, as will the iconic globe logo on the tails. Both the logo and the tail will be updated with the new color scheme, as will the uniforms of United's front-line employees.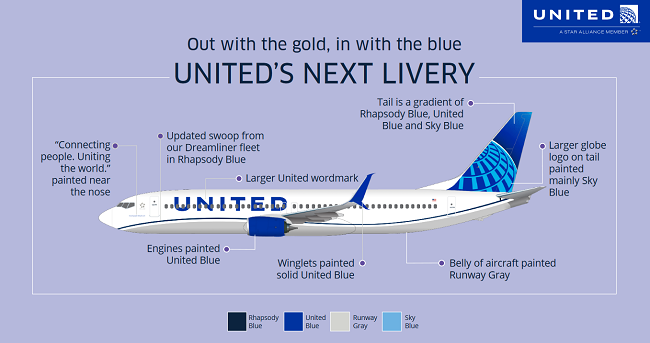 "As we improve and elevate our customer experience, we are changing the way people think and feel about United, and this branding captures that new spirit," said Oscar Munoz, CEO of United Airlines.
"Each improvement we've added to our service advances our evolution as an airline, furthering our effort to elevate and redefine customer service in the sky. This modernized design, especially our iconic globe, enhances the very best of United's image and values while pointing in the direction of where we intend to go next in serving our customers."
The carrier's mission — "Connecting people. Uniting the world." — will be added to each aircraft door across the fleet.
The new livery, which debuted yesterday on a Boeing 737-800, will be rolled out across the fleet as each aircraft is repainted. United said that, on average, aircraft receive new paint jobs every seven years.