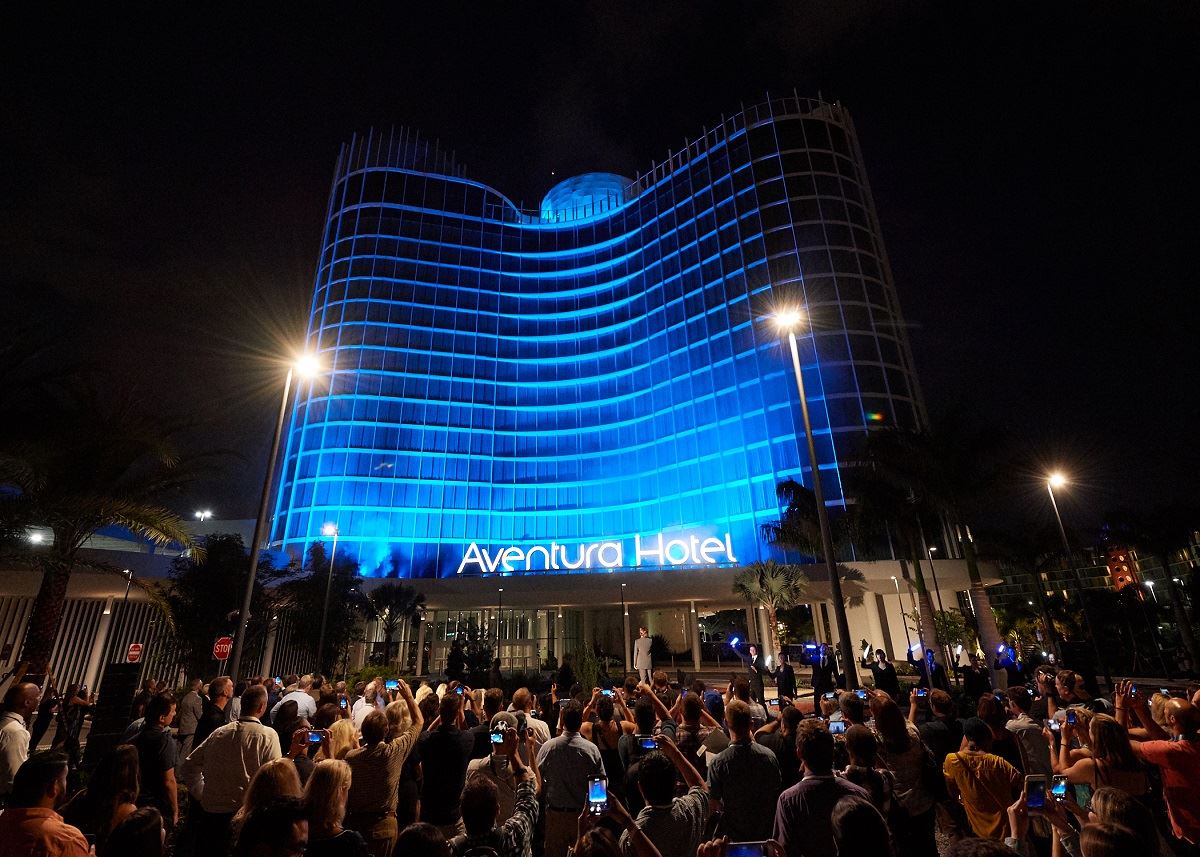 Opening this week, Universal Orlando's Aventura Hotel will add something new to a vacation market that might have seemed to have already been over-explored.
Tom Williams, the chairman and CEO of Universal Parks and Resorts Worldwide, told those gathered for a preview this week that Aventura is a "great compliment to the overall mix of hotels we have here."
What makes Aventura special, aside from its features, is its price point. According to its website, guest rooms start at $116 per night for a four-night stay; while its kids' suites, which sleep five, start at $216.
The prices are what "studies tell us our guests are craving for," Williams said. "It's a sense of something different — a quality product with that price value orientation."
"Yes, it's a value proposition, but this is a really, really nice hotel," he added. The hotel feels like a quiet retreat away from the energy of a theme-park destination.

Aventura's Standard Room includes a touch-screen tablet for guests to use for room service and to check park times.
Accommodations with high tech
The majority of the hotel's rooms are 314-square-foot standard rooms, offering either one king or a pair of queen beds.
A step up from the standard rooms are the 395 deluxe rooms, sharply designed to take advantage of the hotel's unique fidget-spinner-like shape — the rooms sit on the roundabout along the hotel's edge, which give them a feel of almost double their actual size.
The hotel also offers 13 kids' suites — the three-room suites include one master bedroom with a king bed; and a second bedroom with a set of double beds, a large bathroom, and a small living room.
Fitting in with the hotel's minimalist feel, all guest rooms will debut without art on the wall. Instead, Aventura offers guests views of Universal and downtown Orlando with floor-to-ceiling, wall-to-wall glass in each room.
All of the staterooms also feature touch-screen, in-room tablets that provide guests with the ability to control everything from lighting to air conditioning. Each tablet also has the Universal Orlando Resort app, where guests can check wait times for the attractions and look at park maps.
Guest elevators are controlled through a touch-screen built into the wall inside.
Minimalist lobby
The lobby is filled with glass and white stone, which is reflected in the rest of the hotel. For the moment, there is no artwork or rugs, which gives the hotel a theme-less feel that makes it unique among the rest of the resort's properties.
Aside from its urban food hall, the lobby also includes a Universal-branded store, a Starbucks, a small cocktail lounge called Bar Ventura, and a theme-park ticket stall.

The hotel's lobby.
Food and fun
Attached to the hotel's lobby is an open urban food hall that offers a range of quick-service dishes, inspired by the great food halls of the world. The hotel will debut with dishes ranging from Asian to an American burger bar, a roast station, and pizza prepared on-site.
During the hotel's preview, the dishes included a smoked salmon pizza with red onions; paella with chicken, shrimp, grouper, and vegetables; a bacon and mushroom burger that features a black angus patty; and tuna or beet poke.
Dishes set for the hall's opening menu will include: rotisserie chicken, beef ribs, and salmon cedar planks at the Roast Kitchen; four different burgers, turkey and chicken sandwiches, at the hotel's burger bar; tuna poke and customizable wok bowls at Sushi Noodle; and more.
There will also be beer on tap, including Pacifico and Fat Tire Amber Ale, in 20-ounce servings and pitchers; along with wine by the glass or carafe, including Chateau St. Jean Chard and Chameleon Cabernet Sauvignon.
Guests will be able to enjoy their food in a communal setting, on marble tables that sit in the middle of the food hall under six modern chandeliers.
Just outside the lobby is the pool bar, which welcomes visitors on a white stone walkway, attached to a pool deck that wraps around the pool and is filled with lounge chairs and has a fire pit.
The pool bar, called Sol Bar, is open until 11 p.m. each night. It offers canned and draft beer and wine; and specialty, frozen cocktails like a frozen Moscow mule called Mule de Sol, and two signature cocktails — One Fell Swoop (a vodka and ginger beer cocktail) and Devil's Umbrella (a coconut, mescal, and ginger beer concoction).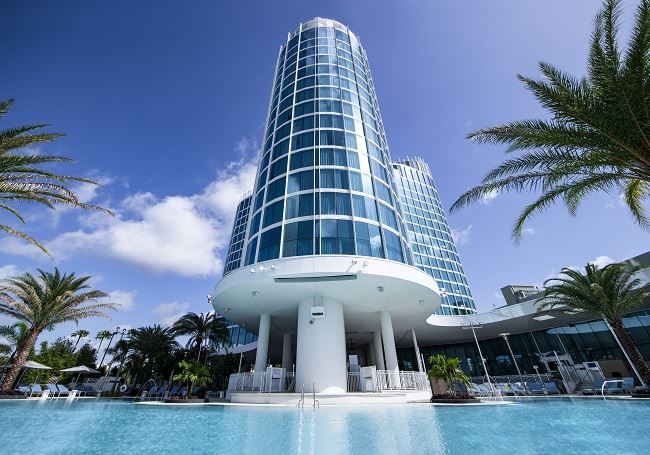 The hotel's pool wraps around the Sol Bar.
Crown jewel rooftop lounge
The hotel's crown jewel is its rooftop bar and lounge, Bar 17 Bistro, which Universal calls the first of its kind for Orlando. The space gives guests a complete wrap-around view of the area around Aventura, from Universal's three theme parks to downtown Orlando.
At the lounge, guests can try the hotel's signature cocktails, along with small plates of food served tapas style. Bar 17 is open from 4 p.m. to 2 a.m. for drinks each night, and from 5 p.m. to 10 p.m. for snacks and dinner.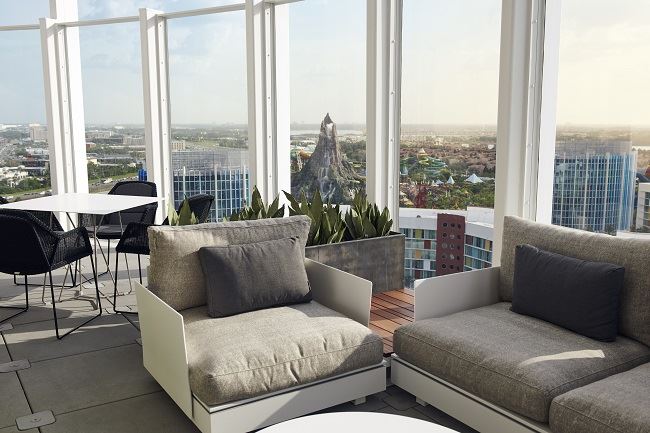 The hotel's rooftop lounge.
Looking ahead
Aventura makes six hotels in total for Universal Orlando, to go along with its three theme parks. It is the first addition since the 2016 opening of Sapphire Falls Resort; and it is the third in the last five years to go along with Cabana Bay Beach Resort, which Aventura joins as another value hotel.
Universal is also readying itself to open a seventh hotel sometime next summer. That surf-themed property, which will be called Endless Summer Resort – Surfside Inn and Suites, will add another 750 rooms to the resort. It will also offer the lowest rates of any of Universal's hotels.