Headquarter Happenings: Virtuoso Focuses on Human Connections While Promoting Digital Tool
by Marilee Crocker /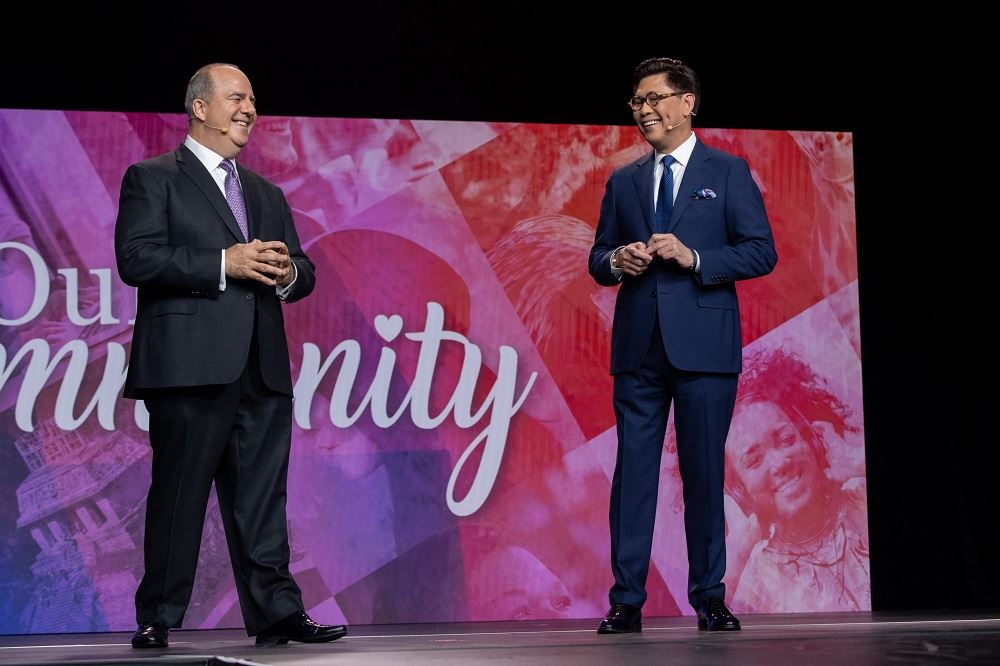 AI-powered technology may be increasingly adept at delivering personalized travel offers to consumers, but it will never, ever match travel advisors' ability to anticipate and meet their clients' travel needs, dreams and unrecognized aspirations.
That was the message hotel entrepreneur Chip Conley delivered to advisors at the 31st Virtuoso Travel Week in Las Vegas earlier this month. "You have nuance, you have intuition, you have empathy. A machine does not. Artificial intelligence will never be as good as your intuition," Conley said during the opening session.
"When you mind-read your customer and can understand them well enough that you can offer them something they didn't ask for, you have a customer for life."
Conley's message was underscored by Virtuoso CEO Matthew Upchurch in opening remarks that touched repeatedly on the personal connections underlying the Virtuoso network and advisor-client relations. "How do we compete with an algorithm? We compete by being more human," Upchurch said. "Human-centric business is an innovation in our time."
Wanderlist: Deepening connections
But Upchurch is no enemy of technology. Indeed, Virtuoso's latest innovation, called Wanderlist, features an online tool that clients, their family members and travel companions can use to rate their travel interests, preferences and destination choices, and create a travel wish list. The client's Virtuoso advisor then uses the results to help clients create a comprehensive long-term travel plan.
Rolled out earlier this year, Wanderlist is not an app or a website. The technology isn't the point, Upchurch told journalists covering Virtuoso Travel Week. "The point of this tool is to create better human conversations, not to replace them."
The overarching aim is to inspire clients to become more purposeful in how they think about and plan for their future travels and to shift them away from planning just one trip at a time. Virtuoso envisions advisors engaging in ongoing conversations with clients and their travel companions about their long-term travel desires and plans, much as financial planners consult regularly with clients to create lifelong financial plans, a theme Upchurch has returned to repeatedly over the years.
"This is about enhancing and deepening the connection between an advisor and a traveler and their families," Upchurch said of Wanderlist.
Virtuoso advisors must pay a fee to undergo training in Wanderlist before they can offer it to clients. Some 120 advisors have done so already, with a second round of training planned for the fall. There is a cost to the client, but Virtuoso expects advisors to embed that cost in their consulting fees. (Virtuoso is also training "Wanderlist guides," whom agencies can hire both to help clients use Wanderlist and to develop their long-term travel plans, leaving the arranging of individual trips to the travel advisor.)

Professional development training during the 31st annual Virtuoso Travel Week in Las Vegas.
Expanded networking & training
The theme "What's on your Wanderlist?" was on display everywhere at this year's Virtuoso Travel Week, which attracted more than 6,500 attendees, including 3,093 travel advisors. Advisors participated in thousands of one-on-one meetings with suppliers, in addition to taking part in professional development and informal networking.
Virtuoso continues to expand its education and networking opportunities outside of Virtuoso Travel Week as well, including with Virtuoso Travel Week on tour, which this year and next is bringing networking and training to 26 cities in 11 countries.
Virtuoso Travel Academy, the network's online learning platform, can now be downloaded to mobile devices; its content is being expanded in areas such as career growth, branding, productivity, sales training, and agency management. "Demand from advisors is higher for professional development classes than for product training," said David Kolner, Virtuoso's senior vice president, global member partnerships.
Virtuoso also has introduced short weekly podcasts, called "Thanks for Asking With Helen Nodland," in which Virtuoso's director of professional development talks with travel advisors about solutions to common challenges.
Virtuoso's Communities program, which provides focused networking, marketing and training in six travel specialties (adventure, cruise, family, wellness, culinary and ultra-luxury) is being expanded in 2020 to include a seventh track for "celebration travel," which will encompass destination weddings, honeymoons and travel for milestone events such as anniversaries.
The Communities program caters both to advisors who want to grow into a specialty and to established specialists. Top-producing specialists receive added benefits and opportunities. In 2020, 150 top participants will be invited on the first Virtuoso Community Cruise, a full-ship, four-day charter on Seabourn that will include networking with 48 suppliers.
On the marketing side, Kolner said advisors are getting onboard with Virtuoso's MyMarketing platform, especially its automated social media posting capability. Launched late last year, MyMarketing gives advisors centralized access to its marketing tools and collateral, as well as to reports on campaign effectiveness.
Keeping sustainability front and center
Advancing sustainable travel remains a priority for Virtuoso. "We want to make sustainability a greater factor in consumer choice so that those organizations and destinations that are doing the very best work are financially successful," Upchurch told journalists.
But sustainability can be a tricky topic to discuss with clients, so Virtuoso has been researching the best ways for advisors to do so. One outgrowth is a new option for suppliers to post their sustainability stories on Virtuoso.com. "We have to have succinct stories about what our partners are doing that are relevant," Upchurch said.
At this year's Virtuoso Travel Week, more than 600 advisors and suppliers attended the first Under One Sky session, where they heard from leaders in sustainability. Virtuoso also convened its third annual Sustainability Council, an exchange of ideas among travel advisors and suppliers.
Virtuoso by the numbers
Virtuoso counts more than 20,000 travel advisors in 50 countries in its network. This year they are on track to sell $26.4 billion in travel, a nearly 11% increase over last year.