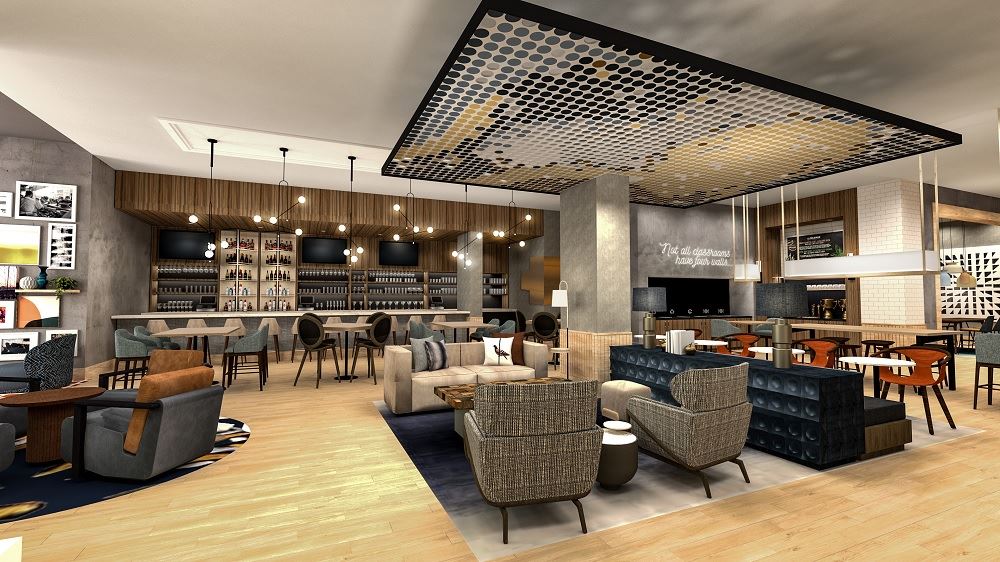 Hilton introduced its 18th brand on Thursday, Tempo by Hilton, described as an "approachable lifestyle brand" serving the "modern achiever."
The limited-service concept will target a more upscale crowd than some of the hotelier's existing lifestyle brands, such as Motto (an affordable micro-hotel concept that launched in October 2018). Tempo by Hilton rooms will range from $150-250 a night.
There are more than 30 deals underway in several prime markets across the U.S., including New York, Maui, Boston, Los Angeles, Lexington, Nashville, San Diego, Charlotte, Houston, Atlanta, and Washington, D.C. An additional 30 deals are in various stages of development.

A king sized guest room, "Power Down Zone," in the new Tempo by Hilton brand. Photo: Hilton
Inside Tempo by Hilton
Properties will have between 150 and 300 rooms. A guest room with a king-sized bed will be about 310 square feet.
Guestrooms will feature a flexible space dubbed the "Get Ready Zone," where a sleek and spacious desk with a backlit mirror can double as a secondary vanity. The area also features an open-concept closet, steamer, mini refrigerator, and shelf to help guests organize their belongings.
Oversized bathrooms include mirrors with built-in Bluetooth speakers and full-size amenities. The bath suite, together with the Get Ready Zone, accounts for 40% of the king room footprint.
Developed in collaboration with restaurant and hospitality firm Blau + Associates, Tempo by Hilton's food and beverage program will center on elevated health-conscious offerings.

The "Get Ready Zone." Photo: Hilton
A complimentary coffee and tea bar will be located in the heart of the lobby. Fuel Bar will serve an assortment of premium coffees and teas, along with various benefit-driven mix-ins. Artisanal smoothies and breakfast sandwiches will be available at the casual cafe. At the bar, craft cocktails and small plates round out the concept's culinary program.
Unique to each Tempo by Hilton property will be hand-picked, curated assortments of artwork and design touches in public spaces such as the lobby. Properties will also house state-of-the-art fitness offerings, flexible meeting spaces, and informal work areas.
Sustainability is built in
The new brand will employ sustainable practices in concert with Hilton's commitment to double its investment in social impact and cut its environmental footprint in half by 2030. Tempo properties will utilize various hydration stations to reduce the use of single-use plastic water bottles, and provide full-size bath amenities to reduce disposable plastics in the bathroom.
Eateries will prioritize local sourcing and offer sustainable seafood and cage-free eggs; implement Hilton's global food waste reduction program; and participate in food donation programs where allowed.