Holland America Ship To House Ukrainian Refugees
by Dori Saltzman /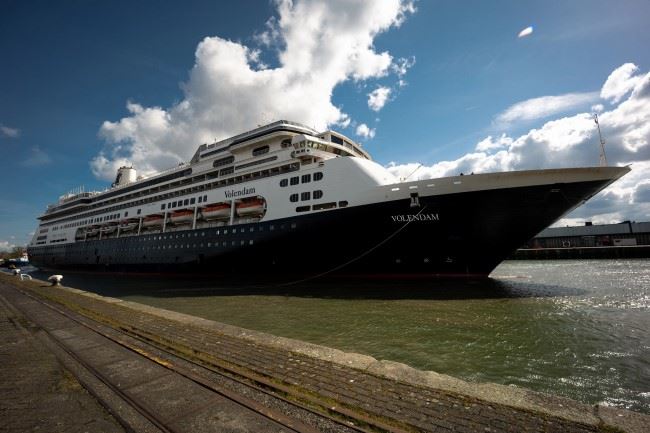 The Netherlands will use Holland America Line's Volendam as a temporary shelter for Ukrainian refugees in the Netherlands during a three-month stay in Rotterdam. During that time, the ship will house and feed approximately 1,500 Ukrainians, part of a larger commitment by the country to accommodate 50,000 people.
"We are in a unique position to accommodate the immediate need for food and housing, so we felt it was very important to work with the City of Rotterdam and charter this ship," said Gus Antorcha, president of Holland America Line. "Our company was founded in Rotterdam around the mission of helping immigrants find a better life. So today we're proud to be a small part of a similar mission for Ukrainians who have tragically been displaced."
Under the agreement to charter Volendam, Holland America will provide three hot meals per day, private stateroom accommodations, housekeeping services, use of public spaces, fitness facilities, internet access and other necessities. Volendam will be staffed with about 650 crew members.
Volendam was scheduled to return to service May 15, sailing from Rotterdam to Norway, the British Isles and Iceland. Three of these voyages have been canceled and instead the ship will return to service on July 3. Guests on canceled cruises are being notified and can choose to be put on another sailing with a similar itinerary.
"We are very sorry for the inconvenience this will cause to guests booked on the three canceled cruises," said Antorcha. "We hope they understand the unprecedented nature of this situation and why we felt it was important to work with the government on this initiative in support of these families in need."
Holland America Group has also set up a $1 million emergency assistance fund to provide direct financial support to its Ukrainian team members. Ukrainian crew members can receive counseling assistance, free internet to communicate with family and scheduling accommodation such as early disembarkation or an extension to remain onboard as needed.
HAL is not the only line to supply a ship to house refugees. AmaWaterways is also providing a ship to the Netherlands, while Costa Cruises' Costa Magica is being used to help refugees in Italy. The family foundation of HAL and Costa parent company Carnival Corporation's chairman Micky Arison also pledged $3 million to charities helping Ukrainian refugees. And, Profits from the most recent New York Travel and Adventure Show, hosted by TMR and Unicomm, were also dedicated to organizations providing relief to Ukraine.