Royal Caribbean's Allure of the Seas Docks in San Juan After Canceling Two Ships
by Jessica Montevago /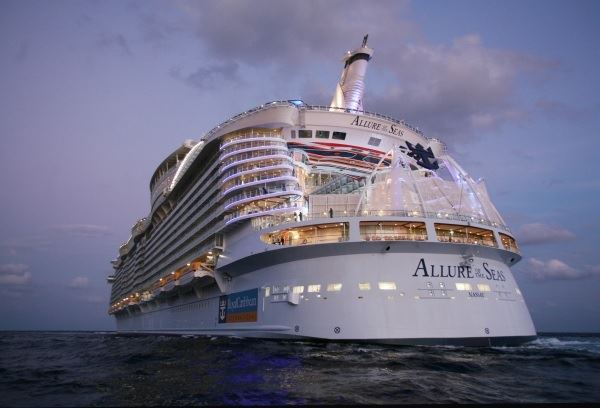 Royal Caribbean's Allure of the Seas docked in San Juan Thursday after the cruise line canceled two ships calling on San Juan, as island-wide protests intensified.
According to local news outlet El Nuevo Día, Allure of the Seas docked this morning on Pier 3 in Old San Juan with more than 6,000 passengers.
Royal Caribbean had canceled two cruise ships stopping in the Puerto Rican capital due to mass protests across the island. Harmony of the Seas, one of the world's largest cruise ships, was rerouted on Wednesday for St. Maarten, its next scheduled port of call. The day prior, Empress of the Seas Empress of the Seas sailed to Tortola in the British Virgin Islands instead.
Carnival Cruises' Fascination is the next cruise line calling on San Juan this Sunday. A spokesperson for Carnival Cruises said it is monitoring the situation, but so far, all visits to San Juan remain as scheduled.
Celebrity's next port of call to the island is also on July 21. A spokesperson said they are currently monitoring the situation.
The itinerary changes come as protests in San Juan continue for the fifth consecutive day, as demonstrators call for the resignation of Governor Ricardo Rosselló after hundreds of pages of leaked online chats revealed jokes about Hurricane Maria victims along with sexist and homophobic comments.
Thousands of people marched through San Juan last night, clashing with riot police. Protesters burst through a barricade at the governor's mansion, and security forces fired tear gas and pushed the crowd to disperse it. Police chased protesters through the streets while firing rubber bullets, gas canisters, and what appeared to be flash bombs.
It is unclear how long the protests will last – Rosselló vehemently said he has no plans to leave his role, while protesters say they expect demonstrations to get bigger should the governor continue clinging to office.
The island's Center for Investigative Journalism, which published the leaked conversations on Saturday, released a new report alleging that a multibillion-dollar corruption network is behind the group chat, where public funds were used to influence and benefit private clients and the Puerto Rican government. It also claims Rosselló knew – and did nothing to stop it.