Spirit Officially Delays Vote on Frontier Merger to July 27
by Daniel McCarthy /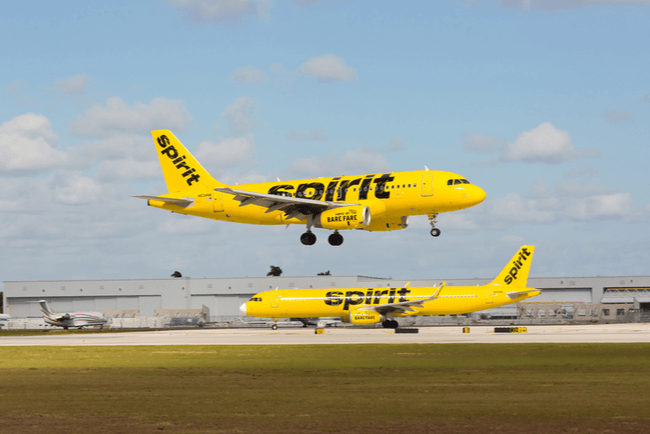 The travel industry will have to wait a little while longer for a resolution on the sale of Spirit Airlines.
Spirit on Wednesday confirmed that it would delay the vote on the proposed merger with Frontier, which was originally scheduled for this week, to July 27.
The delay gives Frontier a little more time to build support for the proposed deal amid a bidding war with JetBlue. Spirit on Wednesday said that it still prefers the merger with Frontier, however, it said it is continuing to have discussions with JetBlue, too.
"Spirit will continue to solicit proxies from its stockholders with respect to the proposed merger with Frontier, and will continue discussions with Frontier and JetBlue Airways Corporation," the carrier said in a release on Wednesday. "The Spirit Board of Directors reiterates its commitment to the Frontier transaction and strongly recommends stockholders vote FOR the merger."
The delay was requested in a letter by Frontier CEO Barry Biffle, sent to Spirit CEO and General Counsel on Sunday and made public this week, which asked for the shareholder vote to be delayed in order to build more support for the preferred deal.
"We still remain very far from obtaining approval from Spirit stockholders based on the proxy data we received as of July 8," Biffle wrote in his letter.
The deal has been hanging in the balance since the original announcement since JetBlue made a competing bid public in April. JetBlue's deal, which is now a $3.7 billion all-cash takeover according to CNBC, remains significantly higher than Frontier's, now a $2.6 billion cash-and-stock combination, but carries some regulatory approval issues.
Spirit's Board of Directors had voted unanimously against the JetBlue offer in May, telling shareholders that the offer "is NOT in the best interests of Spirit and its stockholders" because of "substantial regulatory hurdles" that would make the deal "not reasonably capable of being consummated."
In particular, Spirit said that JetBlue's Northeast Alliance with American Airlines, which was heavily expanded over the past two years particularly out of New York and Boston, will make it incredibly difficult to gain the regulatory approval it would need for the deal to go through.