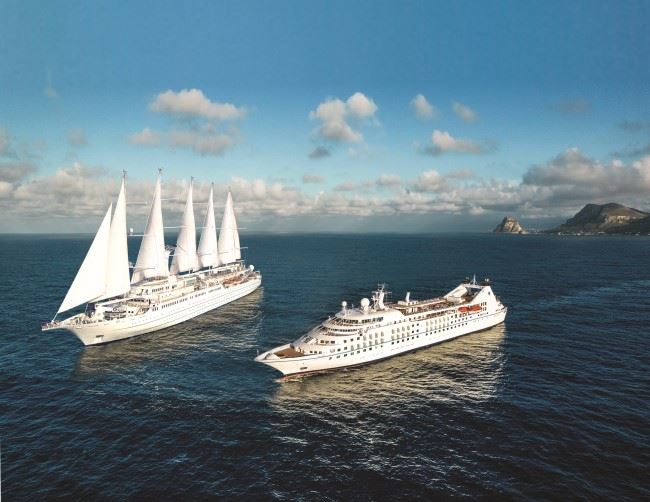 Windstar Cruises is an upscale cruise line that operates a fleet of six yacht-style cruise ships. Three motor yachts (Star Breeze, Star Legend, Star Pride) each carry 312 passengers, while the three sailing ships (Wind Star, Wind Surf, Wind Spirit) hold 148 to 342 guests. Two pricing options are available – a cruise-only fare and an all-inclusive fare that includes a drink package, unlimited Wi-Fi, and gratuities.
Destinations Visited
Windstar ships sail throughout Alaska, Asia, Australia & New Zealand, Black Sea, Canada & New England, Caribbean & Mexico, Costa Rica & Panama Canal, Greece, Holy Lands, South Pacific, Mediterranean, and Northern Europe.
The Windstar travel agent site is a robust hub of information and training tools. Among the many resources travel advisors will find on the portal are:
Access to training tools
• Access to marketing collateral
• Sales tips and strategies
• Promo updates & travel advisor rate listings
• Up-to-date Windstar news
• Sign-up for Trade Winds, Windstar's dedicated monthly travel advisor newsletter
Windstar Travel Agent Education Program
Windstar Star Specialist
Graduates of Windstar's Star Specialist Program earn a $50 bonus commission for each of the three courses completed, as well as priority confirmation of available Windstar travel agent rate bookings.
Graduates also earn 2 CEU credits from The Travel Institute, 2 credits from ACTA, and 3 CLIA elective credits.
Windstar Travel Agent Rates & Fams
Windstar travel agent rates are available on most sailings, but vary based on the occupancy level of each voyage.
Windstar offers hosted travel agent fam trips every year, though there are no set number of trips per year. Travel advisors are invited by their regional sales manager.
Windstar Travel Agent Sales Reps
Windstar's travel agent-focused sales organization comprises 10 sales reps and supervisors. The full list is available on the Windstar travel agent portal, along with their bios so advisors can figure out who their best point of contact is based on their location and specific need.
Marketing Assistance
Travel agents who host a cruise night, and include Windstar in a direct mail or email campaign, or other marketing endeavor, can ask for an exclusive shipboard credit of $50 per guest for all bookings made during the approved promotional period (maximum of two weeks). This opportunity is available agencies, each quarter up to a maximum of four times a year.
Windstar Travel Agent Recognition Program
The three-tiered Club 180 program rewards individual top-producing travel agencies with incentives such as shipboard credits for clients, additional marketing and sales support, priority service and onboard benefits for travel agents when they sail.
Percentage of Bookings from Travel Agency Community
According to Windstar, travel agents make up "the largest segment" of its bookings.