New York's Millennium Hilton Downtown is Getting a New Name
by Daniel McCarthy /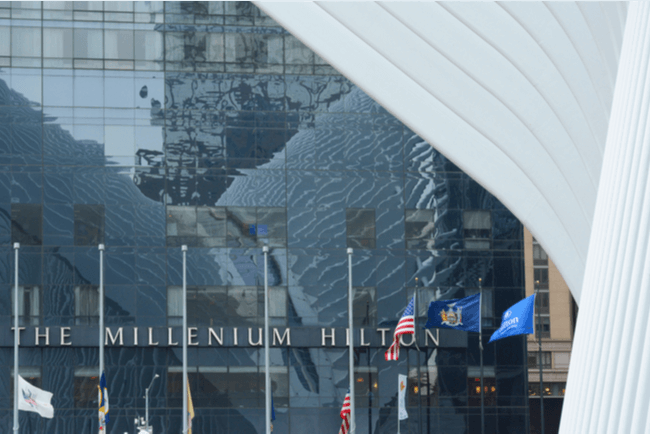 One of New York's more well-known downtown hotels is getting a rebrand.
The Millennium Hilton Downtown, the 55-story hotel on Church Street just steps away from One World Trade Center, will now be known as Millennium Downtown New York, ditching the Hilton name.
The hotel, which is one of four Millennium-branded hotels in New York, will keep the same amenities, service, and rooms on property, all that will be changing is the name of the hotel as transitions away from Hilton and fully into the Millennium portfolio of brands.
The hotel dates back to 1992 when it was opened by Peter Kalikow, the president of a New York-based real estate firm and the former chairman of the MTA and Port Authority, and the former owner and publisher of the New York Post.
The "Millennium" in the name was originally spelled with one "N," an incorrect spelling that Kalikow believed made the hotel more distinct among New York's hotels.
The property was sold shortly after opening after Kalikow went into bankruptcy. Hilton began managing the property after the sale.
The hotel was one of a few hotels that took damage from the attacks on Sept. 11, 2001, having to close for a year-and-a-half after the attacks for an extensive refurbishment. For a while after the attack, the flag that hung outside its doors and was recovered from after 9/11 was displayed in its lobby.
In 2017, the hotel was renamed the Millennium Hilton New York Downtown. This week's news marks the end of that Hilton management for the hotel.