Caribbean Remains Premier 'Go-To' Product for Travel Agents, New Survey Reveals
by Kerry Tice /

The Caribbean rules the roost when it comes to territories where travel agents choose to focus their energy and expertise. According to a new survey of 850 leisure travel agents, conducted by Travel Market Report, a whopping 96 percent of agents responded that they sold vacation travel to the Caribbean in the past year. What's more, almost eighty percent (79 percent) of those surveyed revealed they have at least one person in their office specializing in selling the Caribbean.
This informative research confirms the fact that travel agents see the Caribbean as a core product and are continuing to make an investment in this region by securing the knowledge they need to further promote and sell the destination.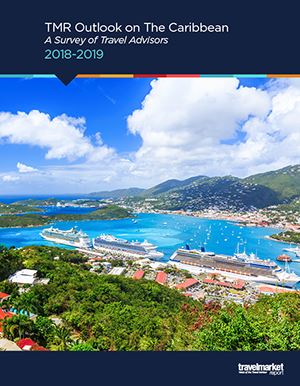 The newly released TMR Outlook on The Caribbean: A Survey of Travel Advisors — sponsored by Norwegian Cruise Line, Regent Seven Seas Cruises, and Oceania Cruises — is chock full of useful and tangible information that travel agents and suppliers will want to take notice of when formulating their marketing plans for 2019, including feedback from travel agent readers on what's hot, what's not, how the hurricanes impacted their business last year, and what their hopes and expectations are for this year — not to mention where they see the biggest growth opportunities.
Cruises are the most popular Caribbean sale
Research from the TMR Outlook on The Caribbean underscores that both cruise lines and vacation land suppliers play a critical role in helping travel agents sell the region. In fact, when agents were asked what types of products they are selling the most in the Caribbean, 72 percent said they regularly sell cruises to the region, which jumps to 93 percent when combined with those who say they sometimes sell cruises to the Caribbean (21 percent).
Second and third to cruises when it comes to products sold most was adults-only resorts (66 percent), followed by luxury all-inclusive resorts (58 percent).
The results of how travel agents book their land-based vacations to the Caribbean was not overly surprising, with nearly three-quarters of all agents (73 percent) saying they book clients to this region via tour operators. However, it does provide a good reminder to hotels and tourist boards that travel agents are the ones driving their business and should continue to be recognized for their contributions to the region. On the flip side, only seven percent of agents said they book directly with a Caribbean hotel by calling, emailing or faxing; and even less said they book directly through a GDS (5 percent).
Mexico's Caribbean takes the lead
When it comes to destinations, Mexico's Caribbean topped the list, taking three of the top four spots in the total sample of the hot spots that agents sell most. Riviera Maya led the way (71 percent), followed by Cancun (67 percent) and Cozumel (44 percent). Jamaica took the third spot at 54 percent, followed by 43 percent of agents who say they regularly sell Nassau in The Bahamas.
Turks and Caicos, USVI, St. Lucia, St. Martin/Maarten, Aruba, Cayman Islands and Freeport in The Bahamas each were cited by 20-26 percent of agents as destinations they sell on a regular basis. Only 16 percent of all agents said they sell Cuba regularly, although that number rises to 55 percent for those agents with Canadian clients — picking up fourth place.
To download a free copy of the TMR Outlook on The Caribbean: A Survey of Travel Advisors, click on this link.