Heaps of Seaweed Plaguing Caribbean Beaches, Affecting Tourism
by Jessica Montevago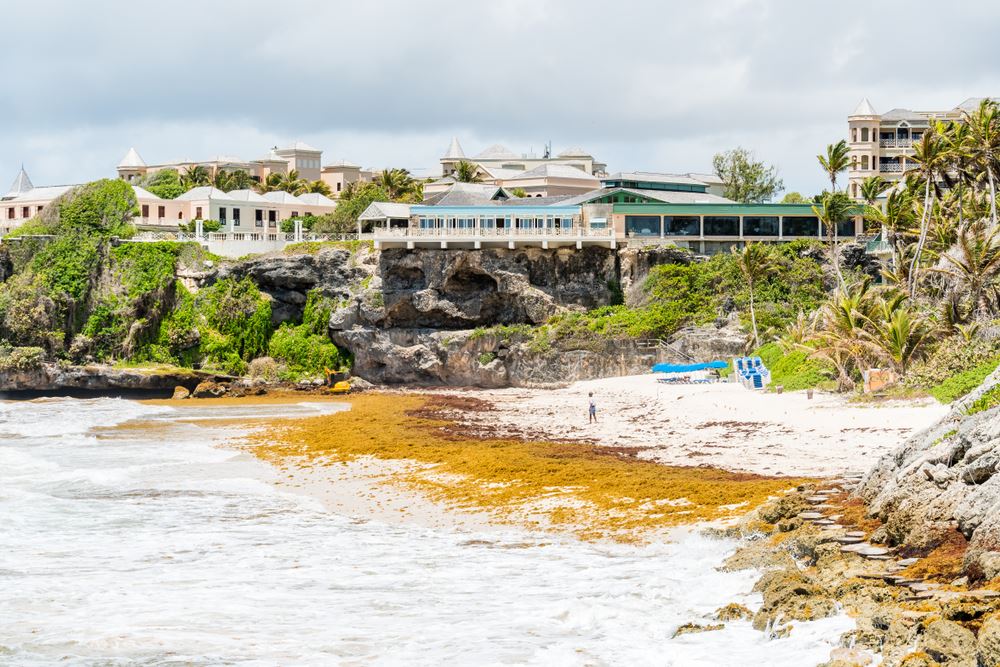 Barbados, the easternmost island in the Lesser Antilles, is being inundated with massive rafts of floating seaweed, swamping beaches and killing wildlife, and posing a potential threat to tourism.
The nation's government declared a national emergency on June 7, after satellite observations warned of record-setting Sargassum blooms and seaweed making their way to its shores.
The seaweed's arrival in Barbados started to trickle in around January, but the amount has ramped up dramatically since early June, according to Science, which is published by the American Association for the Advancement of Science (AAAS).
According to the publication, the Sargassum's "source region is encircled by currents running clockwise from South America to Africa and back again. From January to May, that loop breaks down and westward flows sweep Sargassum up the Brazilian coast toward the Caribbean."
James Franks, a marine biologist at The University of Southern Mississippi in Ocean Springs, trying to explain why a part of the ocean that was once seaweed-free is now rife with Sargassum, told Science, "Right now, there's [another] huge mass impacting Puerto Rico, and that's the last thing they need."
The seaweed also made landfall on another island in the region, Dominica, in the town of Marigot.
Many in the region are now wondering how to cope with the heavy growth, which has been ramping up since the first mass beaching was spotted in 2011.
Its cause is still unknown but contributing factors are believed to be nutrient inputs from the Amazon River, which discharges into the ocean around where blooms were first spotted; changes in ocean currents; and increased iron deposits from airborne dust.
The reddish-brown floating seaweed has now begun to affect the region's tourism, as it covers once pristine beaches and prevents swimming and other water activities. In Antigua, all-inclusive St. James's Club resort was forced to close temporarily from July 15 until Sept. 30, the second time in recent years it had to do so. Guesst have been relocated guests to other properties operated by Elite Island Resorts.