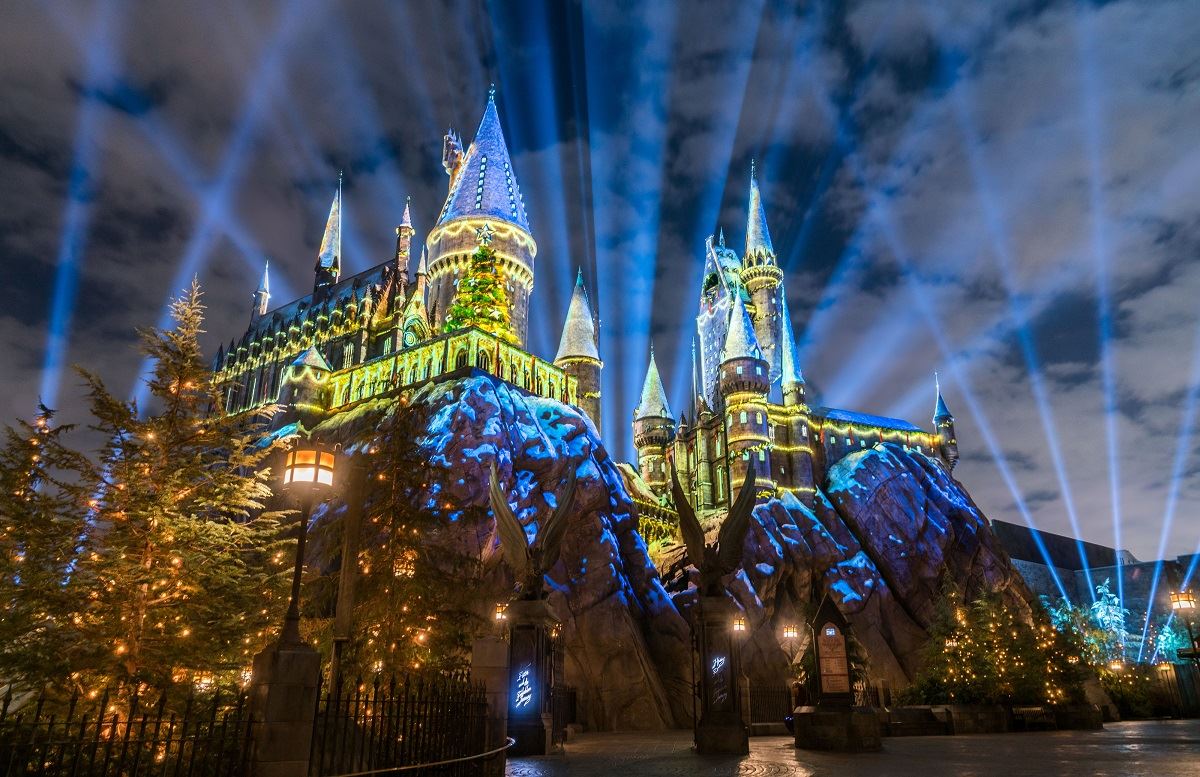 Minion balloons and Shrek floats made their way through the streets of Universal Studios for the first time last Saturday, as the all-new Holiday Parade featuring Macy's made its debut.
The parade – one of several new holiday experiences this year at Universal Orlando Resort – includes 15 original floats themed around popular characters from DreamWorks Animation's Madagascar and Shrek, Illumination's Despicable Me, and classic holiday elements like Santa's sleigh and elves.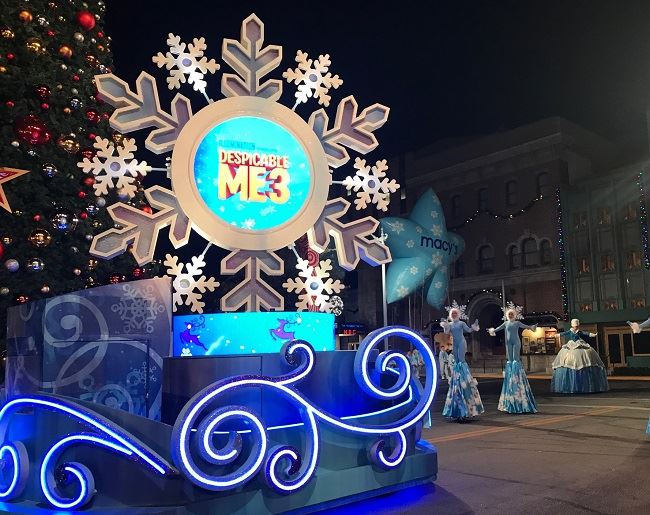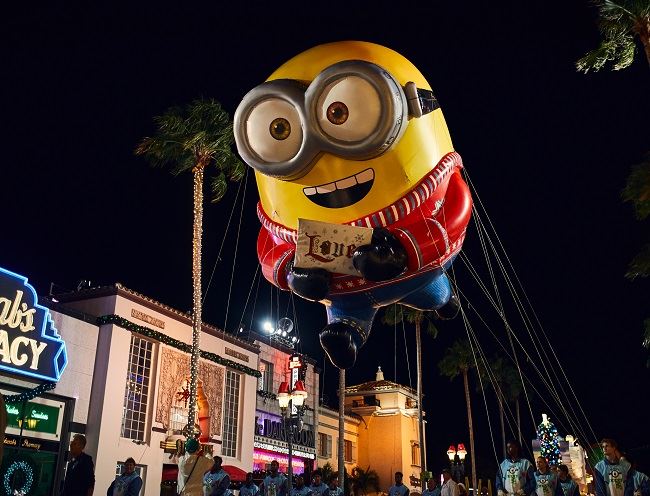 Photo: Universal
Through its partnership with Macy's, the force behind the iconic Thanksgiving Day Parade in New York City, 13 larger-than-life balloons were created exclusively for Universal, including Bob from the Minions movie as well as the Dronkeys and Gingy from Shrek. They were all linked together by more than 100 choreographed holiday performers and characters, from toy soldiers to snowflakes.
"All of the floats and costumes and the balloons together made a story … that was all leading towards Christmas," said John Piper, vice president of Macy's Parade Studio.
The floats near the end of the parade brought an element of nostalgia, said Lora Sauls, senior show director and entertainment creative development at Universal Orlando Resort. She said it was important to incorporate traditional holiday memories, so there was something for every generation in the parade.
The parade runs once a day at about 5-5:30 p.m. until Jan. 6, 2018. As it gets closer to Christmas, the start time will be 8 p.m. "We're kind of nudging it back so we can see those beautiful lights even more as it gets darker," Sauls added.
After the parade, all of the characters stay for a special meet-and-greet, giving park goers "evening entertainment in the street until the park closes." The Minion Christmas tree float, for example, will come out after the parade and be the backdrop for Despicable Me's Gru and his entire family, Sauls said.
"The original parade was created 16 years ago to take this wonderful wonderland that looks like New York City and bring the Thanksgiving Parade here, and scale it in such a way that it could be presented here and have a lot of fun with that," said Piper.
The other half of Universal's new holiday offerings is Christmas at the Wizarding World of Harry Potter – over two years in the making. Michael Aiello, senior director of entertainment and creative development at Universal Orlando Resort, said, "We've wanted to do this since Hogsmeade opened in 2010. It's why Hogsmeade is snow-covered to begin with."
Holiday décor was the first part of the project, according to Aiello, which included having unique decorations specific to each location, such as gum drops in the garland outside Sugarplum's Sweet Shop. Complementing the lights and baubles that lined the streets, new holiday-themed performances were added in each land. In Diagon Alley, Celestina Warbeck and the Banshees sing four new tunes including "My Baby Gave Me a Hippogriff for Christmas." Over in Hogsmeade, the Frog Choir croons "I Cast a Spell on Father Christmas," one of three new songs.
Additionally, hot Butterbeer makes its seasonal return and a new holiday dinner of roast turkey with gravy is available at Three Broomsticks. Stocking stuffers, including Hogwarts snow globes and House ornaments, are sold as well.
Topping it all off is an eight-minute, projection-mapping light show on the Hogwarts Castle at Islands of Adventure. "The Magic of Christmas at Hogwarts" incorporates holiday themes and characters from the beloved series, with a grand finale of fireworks shooting into the night sky. The show runs from dusk to park close, likely around every 20 minutes.
"To be able to add that layer to something that's already magical, it's a good thing," Aiello said after seeing his team's completed work for the first time during a preview Thursday evening. He and his team used 24 projectors to display the various images across the castle after spending a year and a half mapping the animations.
The team took its time developing each detail. Aiello said that because Harry Potter is important to so many people, "living up to it is an immense responsibility, and we wanted to maintain that and their perception moving forward. This changes holidays in a big way for Universal."
"For the first time ever, travel agents can book a vacation that will allow their clients to enjoy an epic Holiday celebration that combines new experiences like Christmas in The Wizarding World of Harry Potter and Universal's Holiday Parade featuring Macy's with beloved classics like Grinchmas, Mannheim Steamroller concerts and more," Fernando Flores, vice president of Universal Parks & Resorts Vacations, told TMR.
"At Universal Orlando, we want travel agents to exceed expectations with their own clients and I think we've hit that goal with this year's Holidays celebration," he added. Travel advisors can book their clients the Splash, Stay and Play vacation package at Universal's agent-dedicated platform.
Photos: Jessica Montevago