Marriott Announces Date for Loyalty Program Merger with SPG, Ritz-Carlton Rewards
by Jessica Montevago /

Marriott International will introduce a combined loyalty program on Aug. 18, the company announced on its website. The unified program will merge Marriott Rewards, The Ritz-Carlton Rewards and Starwood Preferred Guest (SPG) under one account, profile, login, and points balance.
Marriott will launch new Elite status levels and new benefits. Existing Elite members will continue to be Elite and will receive a new, but similar, tier level.
Here's how member tiers will change in August: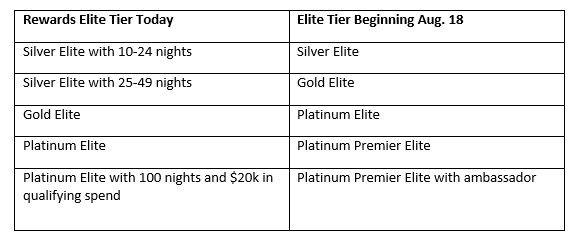 Starting Aug. 18, members will be able to combine Rewards and SPG nights going back to Jan. 1, 2018, to achieve one of the Elite status levels. Silver Elite status can be achieved after just 10 nights.
An updated website and app will also debut that day, though Marriott's member's website warned that: "Systems will be down much of August 18 starting at approximately 6 a.m. EST to launch your new member experience. In addition, you may experience temporary disruptions in making reservations and accessing your account via our websites, apps and Call Centers for a period of time following this systems outage."
The integrated program allows members to earn points at 6,500 participating hotels across all 29 brands on room rates and other incidentals, such as spa and dining. Previously, only select Rewards brands offered point earnings on incidentals.
Marriott will debut a new program name in early 2019, nearly three years after acquiring Starwood and its brands, such as St. Regis, The Luxury Collection and W Hotels. Speaking on the issue last year, CEO and President Arne Sorenson said it was important to take their time during the transition process to retain the loyalty of both its Starwood and Marriott customers. "It's not as simple as we want it to be … It takes lots of dollars and lots of time to meld the two," Sorenson said at the time.