The Netherlands is Shifting Its Focus to Managing Overtourism
by Daine Taylor /

The summer season is fast approaching, and while many vacation destinations have been struggling to attract more visitors, Holland is experiencing a different problem: overtourism. Overtourism occurs when there are too many visitors to a particular destination, and while "too many" may be a subjective term, it is typically defined in each destination by local residents, hosts, business owners and tourists.
Holland's major attractions — including the canals, tulips, and windmills — have become extremely overcrowded in recent years. In response, the Netherlands Board of Tourism and Conventions (NBTC), the organization in charge of monitoring tourism in Holland, is preparing to shift its priorities from promoting the Netherlands as a tourist destination, to putting a spotlight on other lesser-known parts of the country.
The NBTC recently released a report detailing the effects of tourism on the nation, as well as how the tourism landscape will change over the next 10 years. According to the report, entitled "Perspective 2030," the number of incoming overnight visitors will increase by a minimum of 50% from 18 million in 2017 to 29 million in 2030. The report predicts that if the growth continues to increase exponentially, this number may increase further, to no less than 42 million by 2030.
During the last 10 years, the number of inbound visitors to the Netherlands increased by an average of 5% per year, with domestic travel also increasing by an average of 2% per year.
As a result of this startling trend, the Netherlands will stop promoting inbound travel, turning its focus instead to managing the record influx of visitors, and balancing the toll such tourism has on local residents, businesses, and public infrastructure.
Putting changes in place
Amsterdam, one of the most popular tourist destinations in the country, has already taken steps towards this goal by banning tours of its Red Light District, beginning next year. Starting on Jan. 1, 2020, group tours through the Red Light District will be prohibited. The Municipality of Amsterdam announced the end of these popular tours, stating the crowds "are not respectful towards sex workers."
A city of 850,000 people, Amsterdam welcomed 19 million visitors in 2018, and has implemented several measures in order to reduce overtourism. The city also announced a day trip tax for ocean and river cruise passengers; a tourist tax on rooms was raised last year; and more restrictions have been put in place when renting out Airbnbs.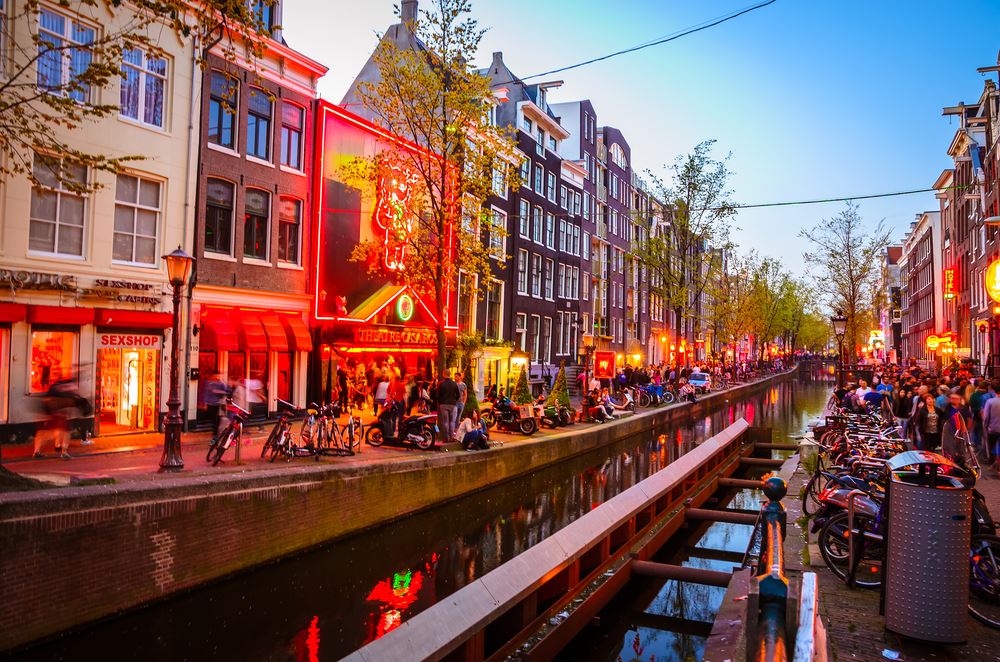 Amsterdam has already taken steps towards this goal by banning tours of its Red Light District. Photo: Olena Z / Shutterstock.com.
The report shows the residential population of the Netherlands is increasing, and with tourism at all-time highs, this could result in increasingly more intensive use of public spaces and infrastructure. The emphasis of the Board's new vision is to balance the advantages and disadvantages of international tourism to help improve the benefits of visits for all Dutch citizens, and actively and visibly limit the disadvantages of increasing visits.
The report lays out four of the most important goals the international tourism provides, including enhancing the Dutch identity; improving livability for locals; helping to realize their sustainability objectives; and creating valuable employment opportunities.
"I strongly believe that we should use tourism as a means for the public interest," said Ronald Besemer, a director for Utrecht Marketing, in the report. "It is a very important industry, as it creates many jobs and is a driver for hustle and bustle."
Redirecting tourists
The report describes the country's objectives to balance the positive and negative aspects of tourism by attracting visitors to different parts of the Netherlands, and if possible, at different times of the year.
"Pressure on the livability of our cities and iconic locations will increase due to increasing visitor numbers, while other parts of the Netherlands do not [benefit] or insufficiently benefit from the opportunities and socio-economic boost tourism can offer. If we want to manage the visitor flows and cash in on the opportunities that tourism offers, we have to act now. Instead of promoting the destination, it is time to start managing and developing it," the report states.

In addition to attracting visitation to lesser-known parts of the country, the study also highlights their aim to attract visitors who will contribute to the Netherlands in some meaningful way, to add value and not cause trouble.
These are considered "quality tourists," and an exact profile of these visitors differs by area and has to be defined on a local level.
The report states that the country must be prepared to stop actively attracting groups of visitors who are a nuisance or do not add sufficient value. "On a national level, it is not about overtourism, but about selecting the quality tourists you want to welcome as they suit your profile and objectives as a city, region or province," said Peter Kentie, managing director of Eindhoven 365.
With these goals in mind, the NBTC aims to develop the Netherlands into a "future-proof, livable, lovable and valuable destination" for years to come.