Two New China Hotels Aim to Draw Millennial Fashionistas
by Mary Gostelow /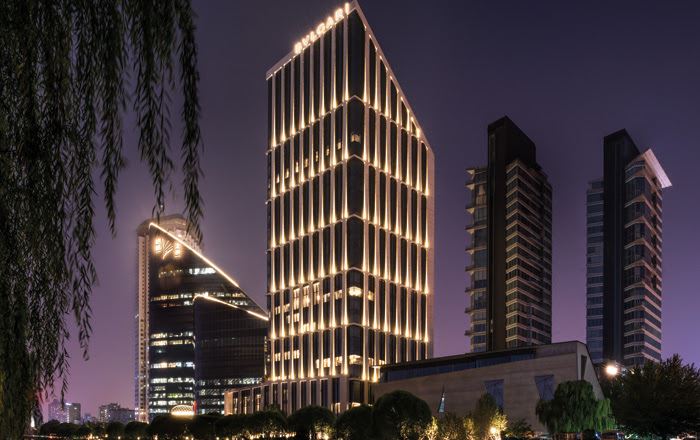 According to Forbes, China currently has 637 billionaires, versus a tally of 563 for the U.S.; and the China-specific Hurun Report says that Apple, followed by Bulgari, are top luxury brands when it comes to gifting. When, therefore, Bulgari recently opened its first two hotels in China, they were both bound to be hot news.
If you want to people-watch China's Millennial fashionistas, these are the hotels for you. Thanks to the brand's designers — Antonio Citterio Patricia Viel, and brand leader Silvio Ursini for cutlery and bedside lights — you have Italian sleekness, incorporating just a modicum of Chinese elements. You have the best, if repetitive, Italian food, great wellness options, and more than enough mental stimulation through well-chosen books and memorable art.

Bvlgari Hotel Beijing
In Beijing and Shanghai, the hotels anchor new communities. Beijing's Genesis Urban Living, on the bank of the Liangma River, is in a gorgeous park that is landscaped to illustrate the five flow states of wu wei (play, pause, reflect, exchange, concentrate). The 119-room hotel is flanked by Genesis headquarters, and by a Tadao Ando building, opening in 2019, as the ultimate gallery of modern Chinese art.

If you know Bvlgaris already — perhaps in Bali, Dubai or Milan — Bvlgari Hotel Beijing makes you immediately feel at home. The sleek use of natural color and striking materials come into immediate play. The two-floor, open lobby has a single-floor, metal-lined tunnel leading to the elevators. The lobby lounge is fully occupied throughout the day and evening. In Bvlgari style, there are free bonbons, with tongs and bags to hold your cache. The bar is dominated by a Bvlgari-standard horseshoe-shaped metal counter, and Cimbali coffee machine. Go further and, inside-out like the bar, is the one restaurant — Il Ristorante, Niko Romito — overseen by that Michelin three-star chef.

Here, to be honest, is Bvlgari's weakest link. Niko Romito believes in just a few composed dishes, say black cod coated in leek sauce, with crispy spinach underneath. It is the same menu every night, and, apparently, in all Bvlgari hotels simultaneously; those dining in Dubai will also have black cod as an entrée choice. My dinner included vegetables with a consistency that looked like water, but apparently it was extract, no added water, of carrots and celery; and it did go well with a house wine, Therra 2013 PoderNuovo a Palazzone di Giovanni Bvlgari. Of course, the cutlery is Bvlgari, as is a wrapped eyeglass cloth that was brought with the menu. I dined with the property's general manager, Italian Antonio Saponara, who later showed me the 380-square-meters Bvlgari Suite, which is often used for photo shoots, as it has a bathtub big enough for a party of eight.

In the morning, as the sun came up, I noticed my make-your-own martini set, the two sizes of hand-painted LSA cups, and the array of books (I immediately homed in on "Sneakers: The Complete Limited Editions Guide" by U-Dox). The shoe-cleaning box has two sizes of wood trees, and a card for Belluti attention.

Before leaving, I headed to the spa for a Chinese foot massage, Traditional Chinese Medicine (TCM)-style. My feet were washed, and I lay on a bed, to be covered with cashmere. The therapist started, left foot first, she prodded, mainly with a little pushing and massaging. "This is your left kidney spot, here — end of toes — is the brain. Your brain is very busy but tired," I was told. "Left kidney and left shoulder, and heart, all on the left foot, are fine." Now for the right foot, what will be found here? "More brain, also tired. We have the liver here, and the thyroid and the intestines." I swear, I felt more energy surging through my body already. At that point, my 20 minutes were up, and a car was waiting to take me to the rail station. The only way to travel between Beijing and Shanghai is by train; expect it to take about five hours — and the accurate time-keeping and speeds of up to 220 mph put even Swiss trains to shame.

Bvlgari Hotel Shanghai
The 120-room Bvlgari Hotel Shanghai — with General Manager Vincent Billiard, from France — is on the top eight floors of a 47-story building, more or less just behind the Peninsula Shanghai. Here, hotel developers correctly gambled that putting the word Bvlgari in large letters atop a building that has Bvlgari retail at the first floor and, above, a stunning Bvlgari hotel, so that China's super rich would want to buy apartments or individual homes here. These high net-worth individuals are increasingly adding heritage to hobbies that include finest French wines, and jewelry, especially if it is Bvlgari. Heritage is offered here, in the form of the Chinese Chamber of Commerce, a three-floor, 1913-vintage brick building next to, and managed by, Bvlgari Hotel Shanghai (the Chamber has a ballroom, really popular for weddings of 250 or so, plus private meeting rooms and a chic Chinese restaurant, Bao Li Xuan).

The hotel's lobby has four-foot-high, black-and-white photos of Monica Vitti; and videos of other jewelry-wearers run in continuous loops of old movies on the hotel elevators. Up at the hotel's top floor, the central bar is pure bronze, three tons in all — it had to be hoisted up by heavy-duty crane. Beyond the bar is, once again, Il Ristorante, Niko Romito.

I was in Bund Suite #4303. The back third of the large main room was artistically caged off, with glass-held gold net, to form a semi-private study. The closet was a walk-through, from the main room to the bedroom and bathroom. Once again, as in Beijing, I was able to start my day in the outstanding Workshop gym, open 24/7, with well-thought-out Technogym pieces. Through shortage of time, I decided to have a room service breakfast, which is also available any hour (yes, 24/7); it arrived on-the-dot with the crispest linens, and, what luxury, plenty of excellent coffee in a black Stelton pot designed by Erik Magnessen. As I left, I made a note, for my next visit, to borrow one of the hotel's Bvlgari-labelled black titanium bicycles, just right for a spin around town.