VEA Newport Beach to Reopen in the Spring After Top-to-Bottom Remake
by Daniel McCarthy /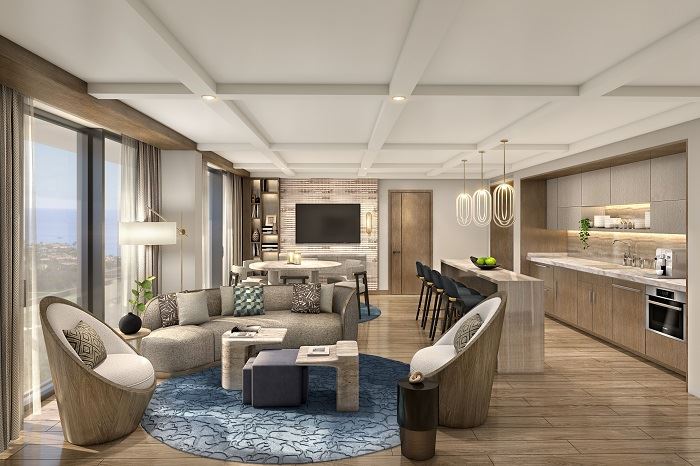 VEA Newport Beach, one of Marriott's signature Newport Beach properties, will reopen in the spring following a top-to-bottom remake.
The property, which used to be the Newport Beach Marriott Hotel & Spa, is getting new coastal-inspired luxury guest rooms, two new suite categories, three new eateries, a new wellness-focused spa, event spaces, and "a luxury destination pool experience," Marriott said.
More than that, the hotel is reemerging with a focus on its environment, mainly, the ocean. The hotel is getting a new tower made up entirely of premium rooms, all with ocean views, and a lobby that "brings the outside in" with folding glass walls on both the front and backside of the space, giving guests an indoor-outdoor experience from the second they arrive.
All guestrooms are also getting a redesign "for an ultimate coastal luxury experience" with beach-inspired color palettes and firepits in select rooms. One of the highlights of its guestroom offerings will be a four-bedroom group suite, which allows the hotel to offer group experiences for friends getaways, multi-gen groups, wedding parties, and more.
The coastal theme will extend to those new eateries, too, with a poolside terrace bar overlooking the Newport Beach Country Club inviting guests with a menu highlighted by local fresh seafood, craft beers, and signature cocktails. The other two eateries will be a European-inspired coffee bar in the lobby and a larger restaurant, connected to a lanai by collapsible glass doors, which will be "Mediterranean in flavor and California in lifestyle."
Bookings for the resort are not yet open.

Photo: Marriott