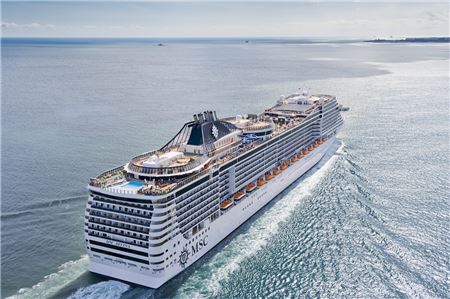 In a message to trade partners this week, MSC Cruises announced it has moved its final payment date for new bookings from 60 days prior to departure to 90 days.
"We appreciate your understanding and support of this change implemented to align with the cancellation policy," the message read.
MSC's payment policy now will match its cancellation policy for bookings made in the United States as it begins an expansion it hopes will make it a dominant force in the North American market.
The change also brings MSC's policy closer to other U.S.-based cruise lines. Carnival Cruise Line and Royal Caribbean Cruise Line require final payment on seven-night sailings 75 days from departure, while Norwegian Cruise Line requires it 90 days from departure.
In its message to partners, MSC also said there will "not be any changes to deposit due dates or to cancellation penalties."
On cruises of 15 nights or less, MSC will continue to offer non-refundable deposits on sailings from 89 to 61 days out; a 50% penalty on sailings 60 to 46 days out; a 75% penalty on sailings 45 to 16 days out, and a 100% penalty on sailings 15 outs until departure.
MSC launched its newest ship, and the world's fourth-largest cruise ship, in June when Meraviglia sailed for the first time out of Le Havre, France. Its next ship is expected to launch in December when Seaside is christened in Florida.
More information on MSC's previous travel agent policies, along with information from 12 other cruise lines, can be found on Travel Market Report's Cruise Report Card published on our website.