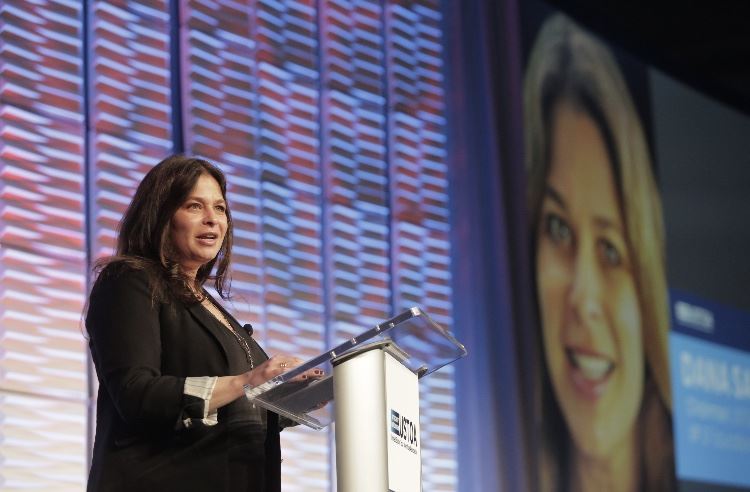 The U.S. Tour Operators Association opened its 40th "Annual Conference and Marketplace" Wednesday at the J.W. Marriott hotel in Phoenix, with the theme of "Be Transformative."
USTOA Chairman Dana Santucci, also vice president of EF Education First, told the audience at the opening session that the conference attendance represented 212 countries, counting active member tour operators as well as associate members, which include suppliers of tour operators, such as destination marketing organizations, airlines, hoteliers and so forth.
Santucci shared her enthusiasm for the theme "Be Transformative," because the community represented by the conference attendees, she said, is "truly transformational."
"I'm so inspired by the theme of transformative travel," Santucci said. "To me, this means finding a way to unite people, across cultures and borders, to create meaningful connections and to spark mutual understanding."
For many attendees, Santucci was introducing herself as she gave her first official speech to attendees as chairman of the association.
"I'm so fortunate for having lived and studied and worked abroad," she said. "And like you, I have chosen a career in travel. I have worked at a company called EF Education First for the last 23 years, and have had many, many transformative experiences, many with you here in this room. Our mission is to open the world through education, and to me, it is a mission that is even more relevant today than ever before."
To illustrate her point, Santucci described a recent trip to Kenya with her sons, and a time when her kids visited some Kenyan kids at a school. They talked about their respective "challenges, goals and dreams," danced together in the schoolyard, and took selfies together. And during that interaction, all cultural barriers seemed to dissolve.
"This day for me," she said, "my boys came away with a newfound understanding that, despite having different views and coming from completely different cultures, and living under different circumstances, they really have common aspirations and share so much with these students.
Talk about transformative travel, this was truly it.
"As a parent of these two, I could really see them being transformed in front of my eyes, and their perspectives shifting. So, I am so grateful to be part of this USTOA travel community. To me, it is a community that now, during a time when countries and people and communication are becoming more closed off, we are a community that is truly transforming the world to a better place by continuing to build across borders and cultures."
As the year 2018 draws to a close, the USTOA has much to be thankful for, Santucci said. The association welcomed two new active members this year: Authentic Vacations.com and Yankee Leisure Group, as well as 118 new associate members.
USTOA by the numbers
USTOA President and CEO Terry Dale used the opening session to recap the trade association's accomplishments in 2018 in a presentation he called a "2018 ROI Report." He summarized the organization's milestones over the past year.
Dale reported that the association completed its Price Waterhouse Coopers (PWC) auditing, which it now undertakes every other year to enable an outside authority to ascertain its economic impact.
The PWC study found that USTOA members are responsible for generating almost $19 billion annually, a 26 percent increase from the last audit two years ago. Members purchased $13 billion worth of goods and services, including 21 million hotel room nights and 5.8 million airline seats.
The survey had the advantage of participation by 91 percent of the group's members. One hundred percent of those surveyed expect more growth in 2019.
Overtourism
Though tour operator concern over terrorism and political instability has gone down, this year's list of concerns included a new category: overtourism, which took its place among terrorism, political instability, economic disruptions, etc. With some local communities in tourist destinations rising up to protest tourism, the subject has become a matter of concern for USTOA and its membership.
USTOA and USA Today
Dale spoke about the results of a two-year marketing partnership with USA Today in 2018 that has far exceeded the expectations of the association at the time it entered into the arrangement.
Through the partnership, four destinations partnered with four USTOA active member tour operators to create videos and other content that was distributed by USA Today. The project generated 1 billion media impressions, Dale said, which was 29 percent over the original goal. The effort generated nearly 6 million social media impressions, which was 98 percent more than the goal.
"This partnership far exceeded what we had hoped for," said Dale. "It really resonated with the customers out there that we are all trying to connect with."
Advocacy
2018 was the year of USTOA's Seventh Annual Congressional effort. A delegation of more than 50 members joined forces in Washington, D.C., to lobby for the interests of tour operators and the travel industry. Among the issues discussed with legislators were travel to Cuba; national parks; travel infrastructure; and government regulations that affect travel.
USTOA humor offensive
Always on the lookout for novel ways to promote itself, the USTOA decided to harness the power of humor in an all-out offensive to promote USTOA tour operators. The marketing committee had a brainstorming session with both associate and active members.
"We wanted to try to get our arms around what can we do that will stand out in the marketplace today," said Dale, "that will provide us with a platform for us for telling our story, but will rise above so much clutter that exists out there today in our industry. After several hours, we realized that we need to smile more. And the way to get people to smile is through humor. So, what if USTOA partnered with a comedian and created some storytelling around our core messaging, but in a very different kind of way?"
As a result, the association formed a partnership with Harrison Greenbaum, a recent finalist on "America's Got Talent" who also recently appeared on "Conan O'Brien," to create a series of six, humorous travelogues.
Travel agent initiatives
Two thirds of USTOA active members' sales come through travel agents, so it is in the interests of the organization to take action to bolster the retail segment to help insure their own continued success.
The USTOA's travel agent training program now has produced 2,600 graduates and 5,700 enrollees. The association also publishes a quarterly newsletter for travel agents and is planning a special promotion for travel agents for next September.
"We want that partnership with the travel agent community to not only survive, but thrive," said Dale.