New Direct Rail Service Linking Amsterdam to London Debuts
by Kerry Tice /

There are so many reasons to visit Amsterdam, and new direct train service between London and this charming city has given travelers yet another.
On Apr. 4, Eurostar launched the first direct rail service to Amsterdam from London, providing visitors with a fast, environmentally friendly alternative to air travel for a connection in just over three and a half hours on average.
The move is expected to spark a price war with airlines like British Airways, Easy Jet and RyanAir, as tickets for the two daily trains start at just 35€ one-way. More than 4 million passengers a year currently fly between London and Amsterdam, making it one of Europe's busiest routes. The market is the same size as the London to Paris market was when Eurostar launched service between those two cities in 1994. Since that time, travel between London and Paris has more than doubled, with 10.3 million people traveling along that route in 2017 alone.
Eurostar's Chief Executive Mike Cooper said the departure of the company's first commercial service to Amsterdam represents a "historic milestone for Eurostar" and the growth of international high-speed rail. "As the Netherlands grow in popularity as a key business and tourism hub, the potential for new service and the overall market is significant, and with highly competitive fares and [short] journey times, Eurostar will transform the connection between these key destinations. As customers increasingly choose high-speed rail over plane, we feel that the growth potential is significant."
The service, which departs at 8:31 a.m. and 5:31 p.m. daily, allows passengers to travel from St. Pancras Station in central London direct to the center of the capital of the Netherlands. The train passes through Brussels and Rotterdam on its way to Amsterdam.
Direct service returning to London is not quite as convenient, at least for now. Passengers traveling from Amsterdam and Rotterdam have to connect through Brussels for passport control until agreements are reached between the two countries that will allow for passport checks to be done in the Netherlands.

By foot, by bike and by boat
Long before the popular movie, "The Fault in Our Stars," rekindled the romantic allure of this city, Amsterdam has drawn visitors here for its small-city feel and unique landscape. Now with convenient rail service, spending a weekend or even a day stopover in Amsterdam is not only more convenient, but also more affordable.
Sometimes referred to as the "Venice of the North," Amsterdam has 165 canals and close to 1,500 bridges – making these historic landmarks its most defining feature. Picturesque, friendly, tolerant and walkable are the most fitting ways to describe this city, which is lined with historic Dutch-inspired homes and businesses, some with crooked landscapes but all with aesthetically pleasing architecture.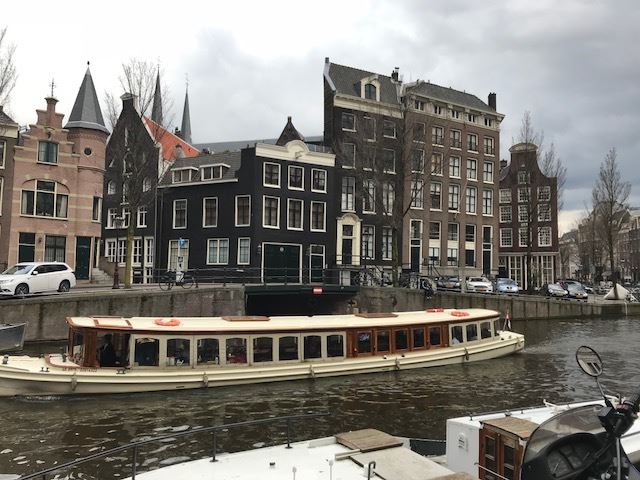 With water at every turn, the ideal way to start an exploration of Amsterdam is by boat. Canal cruises top the list of things to do and offer a charming tour of the city. Multiple departures are offered day and night directly across from Central Station in the city center. Several canal cruise companies line the avenue, where tickets can be purchased in advance or on-site, starting at 20€. Options available include dinner onboard, wine and cheese sailings, or simple scenic routes with no fanfare.
Visitors here can also spend the day walking alongside the canals and visiting museums (the most popular are Anne Frank's House or the Van Gogh Museum) or embracing the local culture by climbing aboard a bicycle. Biking is the preferred choice of locals for travel to work and pretty much anywhere else in Amsterdam, and it is equally suitable for visitors looking to explore this city and have some fun along the way. Rentals are available at nearly every alleyway.
If traveling to Amsterdam between March and May, a trip is not quite complete without a visit to the Keukenhof Gardens. Boasting more than seven million tulips, daffodils and hyacinths, this park is considered one of the most beautiful spring gardens in the world. Tickets can be purchased online for 17€ per adult and 8€ per child.
In terms of accommodations, whether the traveler is seeking a boutique-style, mid-market or luxury property, Amsterdam's hotel scene is diverse. However, luxury properties are definitely on the rise, with the recent addition of American luxury hotel chain Kimpton De Witt as well as the five-star Pestana Amsterdam Riverside, located in a national monument by the Amstel. For those seeking a longer stay, the Wittenberg is a good choice, which is housed in an 18th century building close to Artis Royal Zoo, offers stays of at least one week and features rooms equipped with living rooms and kitchens.