Silversea Reveals Restaurant, Outdoor Details of Silver Nova
by Dori Saltzman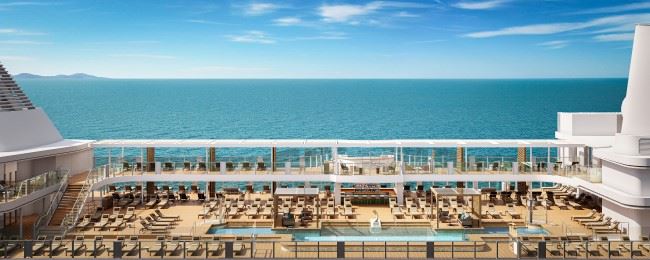 Silversea Cruises unveiled new details of is 11th ship, Silver Nova, during a press conference at the Seatrade Cruise Global conference in Miami. Details of the ship, which is the first in a new class for the line, include some of the signature restaurants onboard, along with a new al fresco dining area, an outward-facing pool, and an aft bar.
"Silver Nova represents the next iteration of Silversea's unique take on luxury, with an entirely new design approach that will enhance our guests' cruise experience," said Roberto Martinoli, president and CEO of Silversea Cruises.
The new design of the ship allows for things like higher ceilings in public areas, more glass walls for unobstructed views from nearly every space onboard, and the addition of new outdoor dining and beverage venues.
"The new ship has been designed with having the ability to look outside and has a lot of glass, as much glass as possible," Martinoli emphasized during the press briefing. "In fact the vessel's structure that is normally obstructing the view has been moved a little to the inside to make sure that the outside is wide open and has beautiful views to the sea."
Signature Restaurants
Among its eight dining venues, Silver Nova will offer several of the line's signature eateries, all spread across decks 3 and 4. These inclue:
La Terrazza: The largest of the onboard restaurants, this guest favorite will be able to hold 340 diners and will feature a vibrant new color palette with floor-to-ceiling windows offering panoramic views from every table.
Atlantide: Another guest favorite, this dining space will hold up to 270 diners.
La Dame: Silversea's signature French restaurant will be expanded on Silver Nova with capacity for up to 70 diners, making it the largest in the fleet.
Kaiseki: This intimate sushi spot will hold up to 40 guests and maintain the minimalist aesthetic its known for on other Silversea ships.
The Marquee: Brand new to Silversea is this al fresco dining venue, located on deck 10 toward the back of the ship. Capable of holding up to 220 guests, the space replaces The Grill and Spaccanapoli, two of Signature's existing signature venues. Like those venues, it will offer the line's trademark "hot rocks" culinary concept, as well as pizza. Due to its proximity to the swimming pool, The Marquee will welcome guests in a relaxed atmosphere, serving casual fare by day and dinner under the stars at night.
S.A.L.T Kitchen: Though not officially announced, Martinoli told media at the press conference the S.A.L.T. Kitchen will be on Silver Nova.
"It's going to be in a better location because we are starting from scratch," he said, adding more details will be forthcoming.
Outdoor Spaces
Boasting an all-new asymmetrical design, Silver Nova's outdoor spaces will be unlike any on other Silversea ships.
The pool deck, for instance, which will be located on deck 10, will feature a horseshoe-shaped pool with loungers on only one side. The other side will look directly out over the side of the ship. At 1,400-square-feet, the main pool will be larger than on Silversea's previous ships and will feature more shallow waters for guests to relax in.
It will also provide more space-per-passenger than other Silversea ships.
"This ship is going to be a real evolution of the open decks," Martinoli said. "It's going to be very generous in space. It's going to be much, much more than what you've seen on any other vessel before."
Sun worshippers will find ample space with 280 sunbeds scattered across decks 10 and 11. Also on deck 11, cruisers will find a cantilevered, infinity-edge whirlpool, appropriate called "The Cliff Whirlpool," another first for Silversea.
The main pool bar will be located on deck 10, as will the Dusk Bar, the second of the two new food and drinks venues onboard. An open-air concept, The Dusk Bar is located at the back of Silver Nova with space for up to 70 guests to enjoy a drink while taking in 270-degree wake views.
The 728-guest Silver Nova is scheduled for delivery in July 2023. It will be the first ship in the Silversea fleet to have all-cabin decks and all-public-space decks. (Previous ships had cabins at the front of all decks, with public spaces at the back.) It will feature 13 suite categories, the largest variety in the line's history.
It's also the first multi-hybrid ship at sea, capable of running on two types of fuel, as well as running off of fuel cells and storing excess energy in battery cells. The ship will run entirely on fuel cells while in port, resulting in zero emissions.
According to Barbara Muckerman, chief commercial officer for Silversea Cruises, the travel advisor community will be critical in helping fill the new ship and in explaining the differences between the old and new ship design.
"I cannot overstate the importance of travel advisors," she said during the press conference. "It becomes even more critical when you have a new class of ship coming… On a ship like this one I think they will have the opportunity to become our ambassadors."